iCareAll PDF Editor is an editor which enables you to open and edit PDF files in Microsoft Word software. Follow the tutorial below to edit PDF file with iCareAll PDF Editor.
Supported File Types:
iCareAll PDF Editor Supported File Type: PDF
Tutorial on How to Use iCareAll PDF Editor
Step1. Open
Click "Open File" to add the PDF file you want to edit. After clicking "Open File" option, you would see 3 options:
– Click "Open" option to select the PDF file you need
– Click "Recently opened files" to show all recently opened PDF files and you can select one to open it
– Click "Reload" to reload the selected PDF file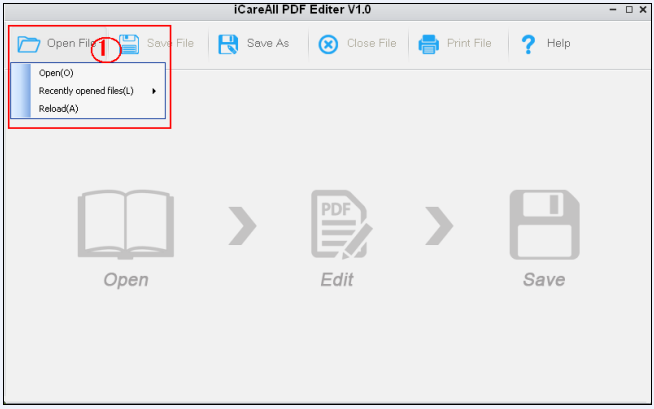 Step2. Edit
The selected PDF file would be opened with Microsoft Word, so that you can easily edit the PDF file just like edit a Word file. You just need to click the content you want to edit and then modify it.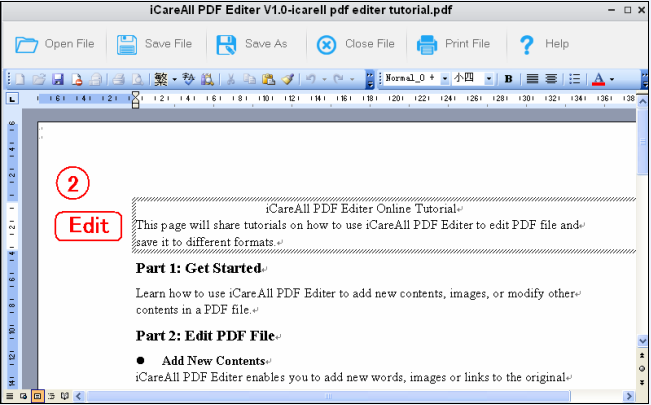 Step3. Save
After editing the PDF file, you can save it or print it.
– Click "Save File" to save the PDF file to PDF format
– Click "Save As" to save the PDF file to PDF, JPG or Word format
– Click "Close File" to close the PDF file without saving it
– Click "Print File" to print the PDF file