IMG to PDF
iCareAll PDF Convert is an easy-to-use tool that enables you to convert one or several images to PDF. This software supports various types of images such as JPG, GIF, BMP, PNG, TIFF, etc. Now, you can follow the tutorial below to convert any type of images to PDF format:
Step1. Click "IMGtoPDF" option which has the ability to convert any image to PDF format.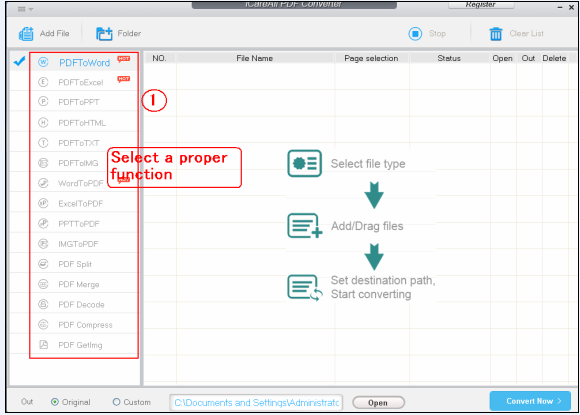 Step2. You should choose the Images that you want to convert to PDF format. In order to select proper images for converting, please follow the two options below:
1. Click "Add File" to select one image. You can add several images as you need.
2. Click "Folder" to choose the folder which contains all images you want to convert.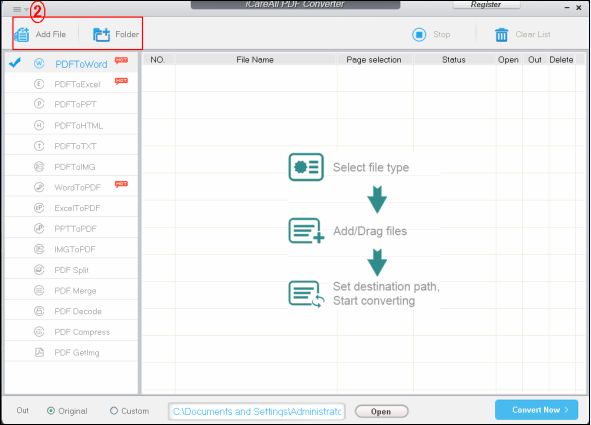 Step3. The software saves the converted file to original place by default. You can specify a place to save the converted file. Please follow the options below:
1. Click "Original" to save the converted PDF file to original place
2. Click "Custom" to specify a place to save the converted PDF file
3. Click "Open" to open the folder which would be used to save the converted PDF file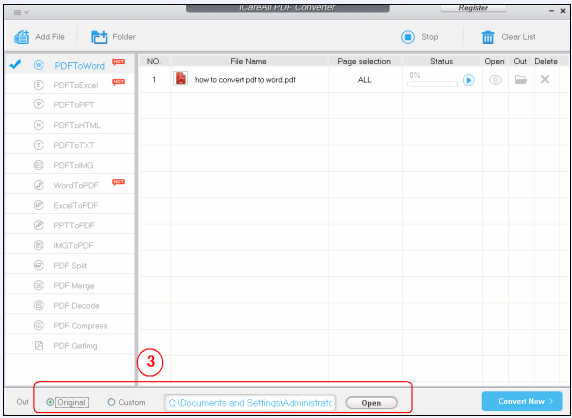 Step4. Click "Convert Now" button to start to convert all selected images to PDF format
1. Click "Register" to enter a license code to activate the software
2. Click "Buy" to pay so as to enjoy all features of this software without limitations
3. Click "Use Trial" to have a try with the software, which only enables you to convert the first five pages