Get the quick solution for launching, selecting supported files and register of iCareAll PDF Converter. And then, follow the tutorial below to use iCareAll PDF Converter for PDF files converting.
Supported File Types:
Documents: PDF, Word, Excel, PowerPoint, TXT
Media files: Photos (JPEG, BMP, GIF, PNG, TIFF, etc),
Other file types: HTML
Step1. Select proper function
You can double click the icon of iCareAll PDF Converter on your computer to launch it after installing successfully. Then, select the proper function including PDFtoWord, PDFtoExcel, PDFtoPPT, PDFtoHTML, PDFtoTXT, PDFtoIMG, WordtoPDF, ExceltoPDF, PPTtoPDF, IMGtoPDF, PDF Split, PDF Merge, PDF Decode, PDF Compress and PDFIMG.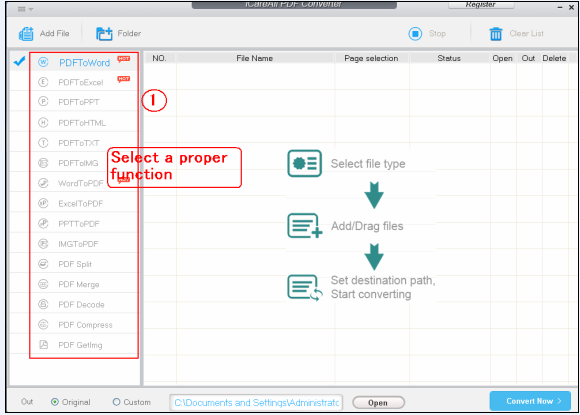 Step2. Select supported file
Click "Add File" to select the file you want to convert or click "Folder" to add the folder that contains all files you want to convert.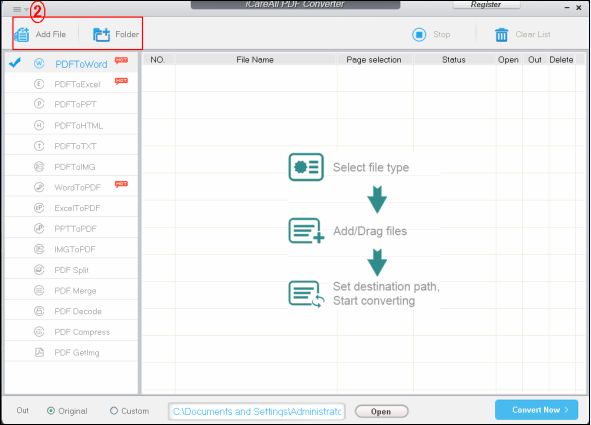 Step3. Select destination path to save the converted file
Select a destination to save the converted file.
– 1. Click "Original" to save the converted file to original place
– 2. Click "Custom" to save the converted file to the place you specify
– 3. Click "Open" to open the aim place you selected to save the converted file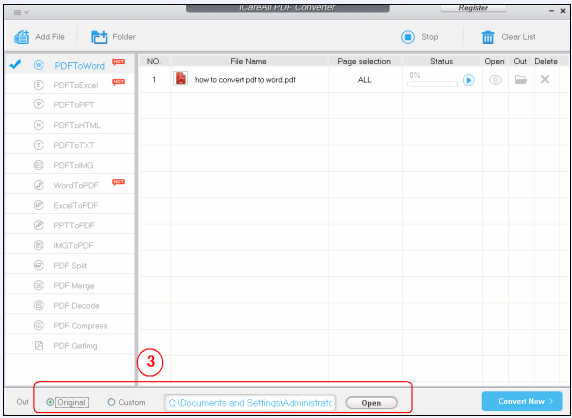 Step4. Convert
Click "Convert Now" to convert the selected file
– 1. You can click "Register" if you have a license code
– 2. Click "Buy" to pay so as to enjoy all features completely without any limitation
– 3. Click "Use Trial" to have a try with the iCareAll PDF converter, which only enables you to convert the first five pages.