Possibility of undelete chance
Overwritten or NOT
Files Were Overwritten or NOT? In fact, not all the deleted files can be recovered easily. If you put other data at the place where your deleted files used to locate in, or download and install other programs on your partition that your lost files happened to lived on, which will rewrite your device, then the new data will take over the place of the old data, making it unavailable to restore your deleted files.
So what the most important thing to remember is: Never save data to rewrite your device after you mistakenly deleted your files nor make changes to your data on the volume, never re-organize the files on your partition/disk drive to avoid data overwritten.
Files Overwritten. How to determine whether the files have been overwritten or not? It's not easy to tell but here are some simple symptoms that can show the sign:
Recovered files were corrupted, not openable (partially overwritten, this happened the most ackward way that some blocks where you kept your old data were taken palced new some new data)
You kept new data onto the drive where you delete your files
You downloaded software and installed it on the same partition where you deleted your files
The disk partition is re-organized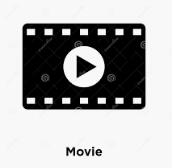 What kind of files are more easier to be corrupted? The large files that took more blocks on hard disk are more likely to be damaged, eg movie files, music files, especially the films that are of high resolution with over 1GB file size plus some camera raw photos, music file types mp3, together with some documents.
Except for this, your deleted files can be restored easily. There are many ways to retrieve deleted files, the more solutions you try, the huger possibility you have to recover your deleted files.
Free recovery software first! Among the several recovery methods, we would recommend free file recovery software for the first choice since these programs usually works efficiently and they are read-only that won't write data into your disk partition when they are scanning your disk.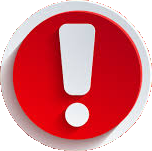 Please do not download nor install the recovery software on the disk drive where you lost your data, for example if you have lost files on your E drive, then never download any program nor install them on E volume, you could download and install them on voume H/D/G/C if possible.
Part3: Recover deleted files with freeware
Trying to install another program on your computer would somehow make lost data overwritten if you install it on the same drive where you lose your data.
File recovery freeware are very useful tools to help you restore your deleted files, I have compared serveral file recovery freeware for you.
1. iCare Data Recovery Free
iCare Data Recovery Free is 100% data recovery freeware for recovering deleted files from digital devices which scans faster than other tools and it could find many types of lost files including old deleted files.
Steps to use freeware iCare Recovery Free
Step 1: Download, Install the freeware on your PC for Windows file recovery, choose 'Deleted File Recovery' if you want to recover recent deleted files, or 'Advanced File Recovery' for other types of data loss.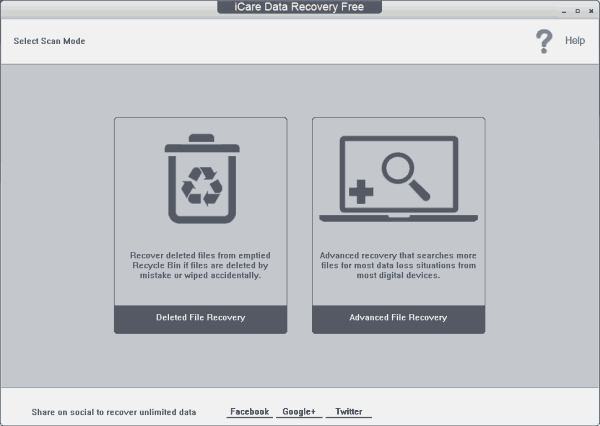 Recover files with iCare Free
Step 2: Select the hard disk partition where you have deleted files and then click next to start scanning lost files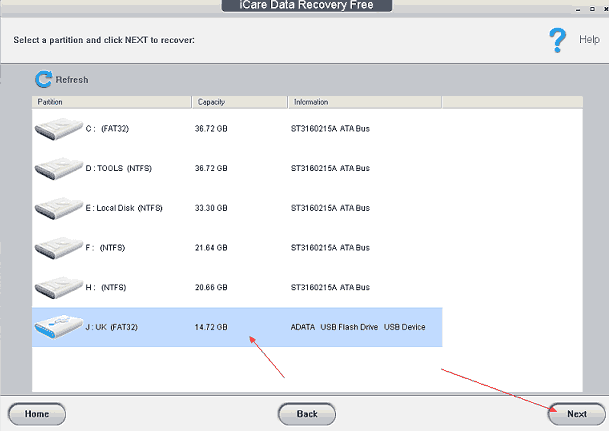 Recover files with iCare Free
Step 3: Save files onto another disk drive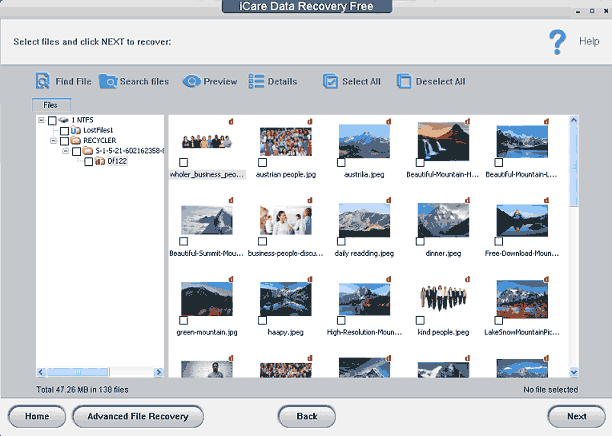 Recover files with iCare Free
2. Recuva
[29/8/2018 updated]Recuva used to be a freeware but now is free to home users and needs to be paid for commercial use and support service. And it is listed at the price of $19. If you are using it for your own noncommercial use, you may stick to its Free version.
Recuva download url: https://www.ccleaner.com/recuva/download
Here is a video that you may watch how to use Recuva
3. SoftPerfect File Recovery
It is another data restore freeware which is very easy to use, and has a small size, won't occupy your computer a lot of space. You may download it and test for your own case.
Download url:
https://www.softperfect.com/download/freeware/file_recovery.exe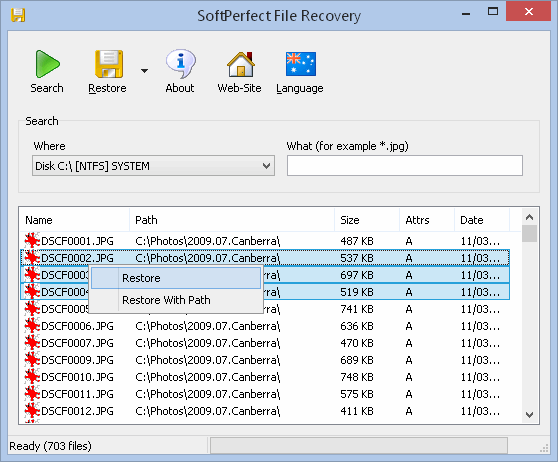 Softperfect File Recovery
4. CD Recovery Toolbox
CD Recovery Toolbox is a free file program, it can also recover files from corrupted drive including CD, DVD, Blu-Ray, HD DVD, etc.
5. ADRC Data Recovery Tools
ADRC Data Recovery Tools is another free file recovery software, it is uncomplicated to use, and it can recover your deleted data from storage device like usb drivers, hard drives, etc.
6. Puran
SoftPerfect File Recovery is a good freeware for data recovery, it has a simple interface, anyone can use it.
How to recover deleted files without software
1. Restore your deleted files from the Recycle Bin
Under the condition that your deleted files had gone to the recylce bin, this could be the most fortunate situation, you just deleted your files and did not empty your recycle bin. You can check your recycle bin, find your deleted files, choose to restore them.
How to open Recycle Bin? Double click the 'Recycle Bin' icon on your computer desktop, and then it would open the recycle bin. Right click the files and it would show the option to 'Restore' the data.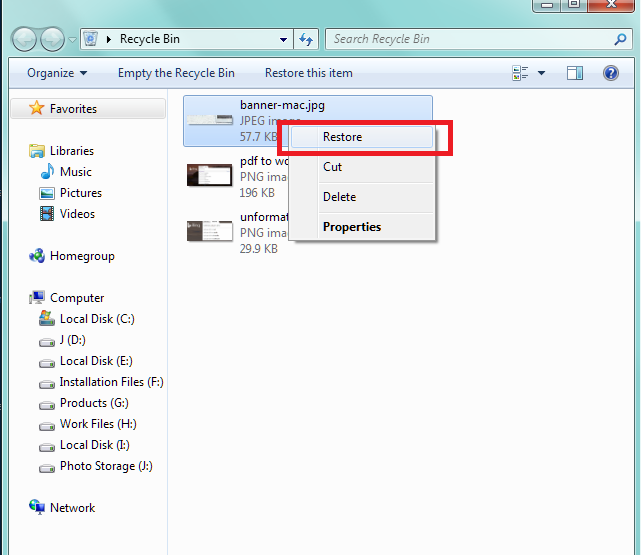 Restore deleted files from recycle bin
Deleted files/folders not in recycle bin, there are some situations that your deleted data were not in the recycle bin
Shift delete files wont go to the recycle bin (used shift + delete keys)
Files are too big that are directly removed instead of going to the recycle
You have cleaned the Recycle Bin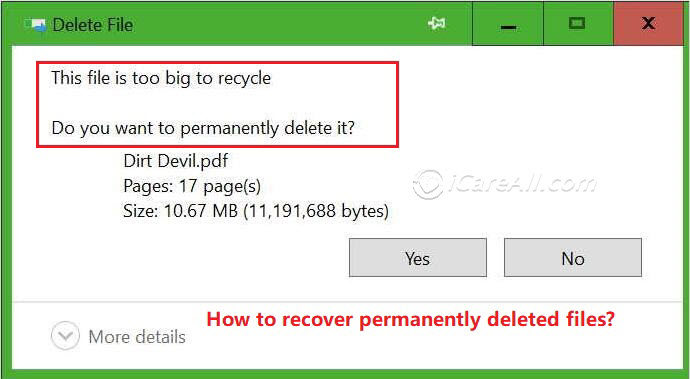 Thi file is too big to recycle bin, do you want to permanently delete it?
Here comes the rest methods that guide you the best ways to restore lost files on Windows PC hard disk when your files are not in the recycle bin.
2. Restore files with built-in function Backup and Restore, or 'Restore Previous Version'
There are some built-in functions on Windows system you can try, and it is totally free.
WayA: Recover deleted files by backup function
"Backup and restore"is a Windows built-in tool to restore your deleted files easily. You can follow the instructions below:
Step 1: click start button, choose"control panel", find"back up your computer"in the"System and Security"module.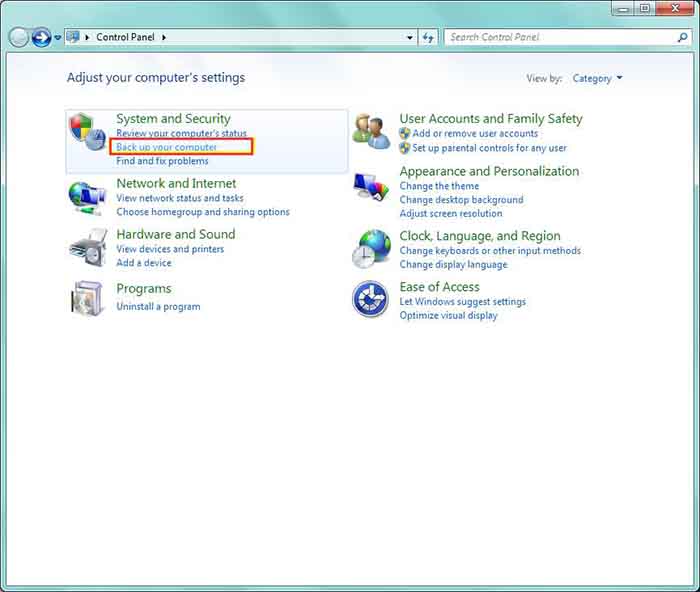 Recover deleted files by backup function
Step 2: Enter"back up your computer", click"Restore my files"option.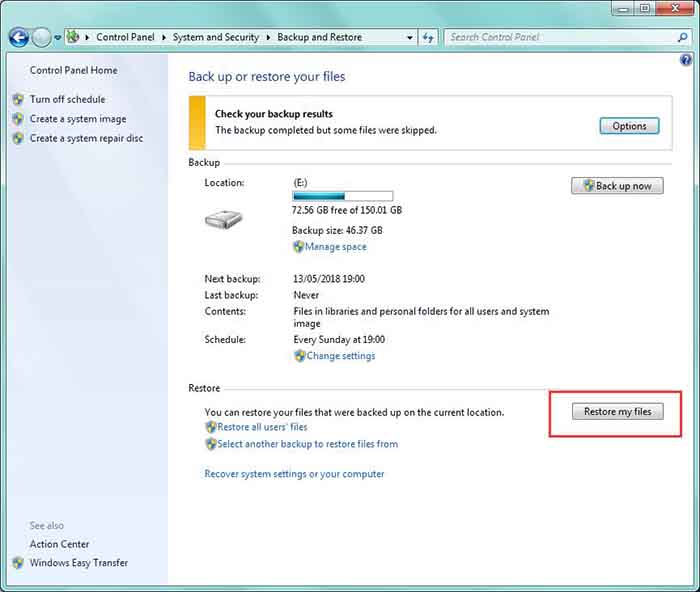 Recover deleted files by backup function
Then you can recover your deleted files for free.
WayB: Recover deleted files by restore to its previous version
This is another easy way to restore your files to previous version and recover your deleted files very efficiently. It some times worked even some third party programs failed to work for you no matter freeware or paid software depending on whether your files were included in the backup when Windows created them or not.
How to recover files from its previous version in Windows 10/8/7
Step 1: Open the drive where your deleted folder located, if you have removed the whole folder, then create a same name, and then right click the folder to get 'Restore Previous Version'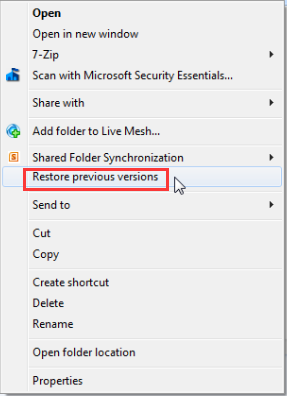 Recover deleted files using restore previous version
Step 2: Check available previous versions and then open the ones that may contain your data. Once you have found your deleted data, copy or pull them out and it's done.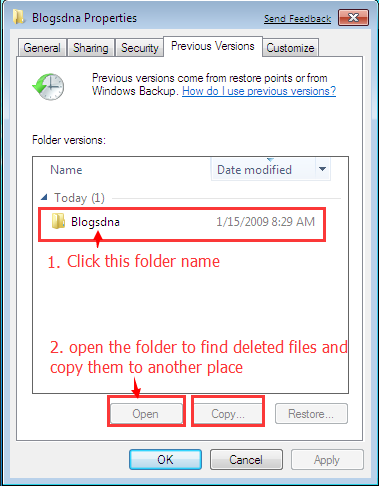 Recover deleted files using restore previous version
Video - how to use previous version to recover lost files in Windows 10/8/7
Files still not found? Don't worry, here are still some tools for you to try and they would especially useful when your files were lost not just due to deletion or shift delete.
3. Recover deleted files with cmd in Windows 10/7
CMD is the command prompt of Windows system, which allows users to use command line to perform certain actions. You can use cmd to undelete files by the following steps.
Step 1: Run CMD on your computer.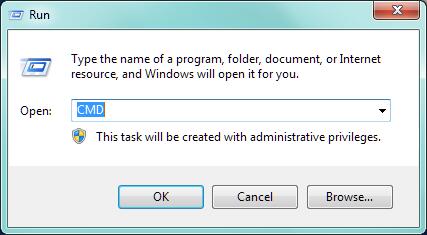 Recover your deleted files with cmd
Step 2: Type"chkdsk 'drive letter' /f"in the window, and press enter.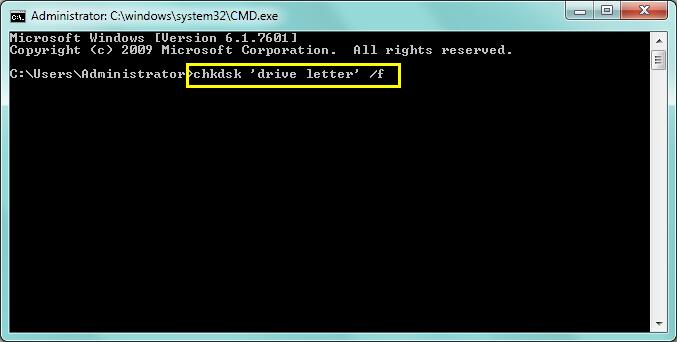 Recover your deleted files with cmd
Step 3: Type [drive letter : \ >attrib –h –r –s /s /d *.*]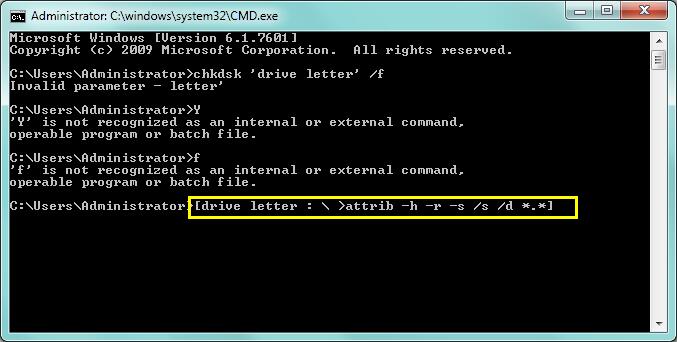 Recover your deleted files with cmd
Notice - The Truth: CMD is not a very useful tool for file recovery, and it sometimes may erase or recover your other files, you need to be careful when you use it. Overall, it is risky to use command prompt for lost file recovery. We would recommend you try some freeware instead.
Still Failed? If you have tried all the solutions above, but have not recovered your deleted files, you may need a file recovery tool to help you. Here are some useful and reliable file recovery freewares, you can find a suitable one.
Recover deleted files with professional paid software
Freeware often has many limitations, so your best choice is a professional paid file recovery software, which has more powerful recovery ability.
1. iCare Data Recovery Pro
iCare Data Recovery is a professional, safe, and powerful data recovery program, it's read-only, risk-free, and can recover lost files from (deleted/formatted/raw/blank/unrecognized) all kinds of device. This is the free download link
2. EaseUs
EaseUs is another paid file recovery software, professional at data recovery, which is easy to use and efficient in recovering lost files with its price around $70 from its standard edition to 89$ of professional edition. It worth a trial if you want to rescue your files.
3. Wondershare Recoverit
Wondershare data recovery later named Recoverit is a professional data recovery software made in China, it has a nice interface, with pretty much the same scanning ability as the rest paid programs.
How to avoid data loss problem?
Data loss can be a headache problem sometime, you can follow these tips to avoid data loss problems:
1. Make a backup of your important files.
2. When you connect SD card, USB, external hard drive to your
3. When you mistakenly delete or format your data, stop using your device to avoid rewriting new data on it, which will make it impossible to recover the data.
Related Articles
External Resources