Be free to visit the complete solution for memory card not formatting on this page
My SD Card Says It Needs to Be Formatted
"I have a question. When I tried to open my micro SD card on the computer yesterday, the system popped out a message saying "The disk in drive is not formatted, do you want to format it now?" I click Cancel option, but my micro SD card can not be accessed anymore, I have some important work files on it, how can I recover the files and repair the SD card?"
This is a common problem often happens on hard drive, external storage device like USB flash drive, SD/micro SD memory card, external hard drive. When this problem happens, you can not access the device, and all the data on the device will not be shown, the used space on the device will be recognized as 0 byte, which means your data on it will be erased. If you click "yes" when the system ask you to format it, sometimes it works, sometimes Windows fails to complete the formatting.
Repair Raw Memory Card Not Formatted without Data Loss
Just right click "My Computer", choose "Manage", enter "Disk Management" module, find your SD card there, and you can check if it is raw. If it is, you need to convert the raw drive to NTFS, FAT32, exFAT file system.
While this is a formatting process, it will erase all your data on the SD card, if you don't have any needed data on the device, you can format the card directly, but if you have, you need to recover the data on the card first to keep your data safe.
You can follow the instructions to repair your SD card without data loss.
SD/Micro SD Memory Card Raw Data Recovery
First, you need to recover data from your SD card. For this situation, there is only one way to recover data: data recovery program. Here I recommend iCare Data Recovery pro , it is a wonderful data recovery tool which has stronger recovery ability and 100% safety. It can also solve other kind of data loss problems.
Instructions to Recover Files from Not Formatted SD Card
Step1: Install the program on your computer. Run it, Enter "Deep Scan Recovery".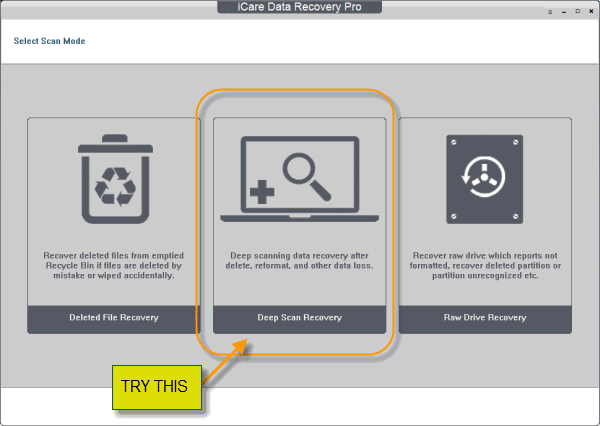 Recover files from not formatted SD memory card
Step2: Select your SD card to scan.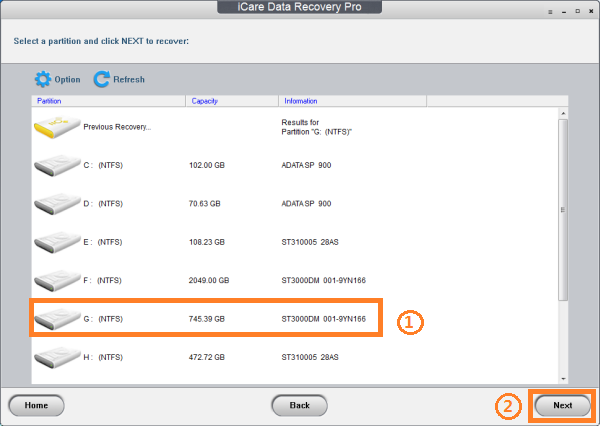 Recover files from not formatted SD memory card
Step3: Preview the found data, recover those you needed, and save them to another drive.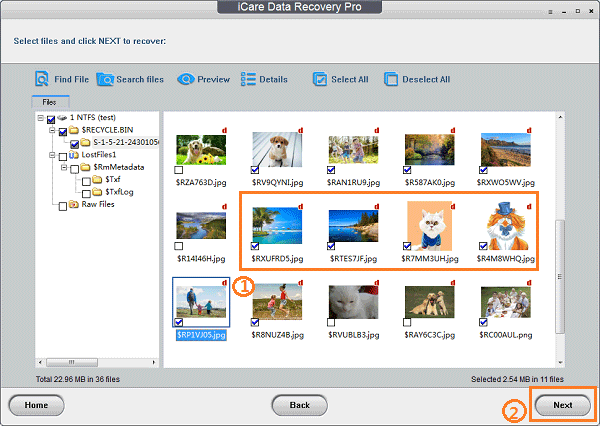 Recover files from not formatted SD memory card
Then you can recover all your files safely from the SD card which has not formatted error.
Repair SD Card Raw Format Error with Windows System Function
After you recovered the data to another place, you can format the raw SD card to repair the raw drive. First, you can try Windows format function, right click your SD or micro SD card, click "format" option, choose quick format to go, if it succeeds, you can use your memory card again, if Windows fails to complete the format, you can try another way.
You can also format the SD card with Disk Management tool, you can right-click "Computer", choose "Manage", enter "Disk Management", you can see your SD card drive is at the bottom of the drive list, right-click your card, start to format.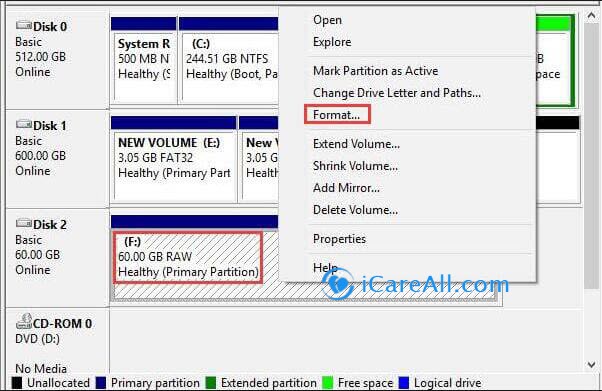 Repair raw SD card with system built-in function
Repair Raw SD Card to FAT 32 with CMD Command Prompt
CMD command prompt is another way to convert raw drive to NTFS or FAT32, you can run CMD command prompt first: right-click "Start" option, click "CMD" on the list, then you can type "format x:/fs:ntfs"in the command window,(x is the drive letter of your SD card) wait for it finished, your SD card will become NTFS file system.
Fix Raw SD Memory Card Not Formatted Error with Format Tool
If you don't want to use command prompt to fix your raw SD card, you can also try a format tool. These tools are often free, you can download one to repair the raw SD card. Here I recommend IM-Magic Partition Resizer free, which is a free formatter with a lot of functions.
Related Articles