Note: This solution applies to all kinds of memory card like sd card, sandisk sd card, microSD card, cf card...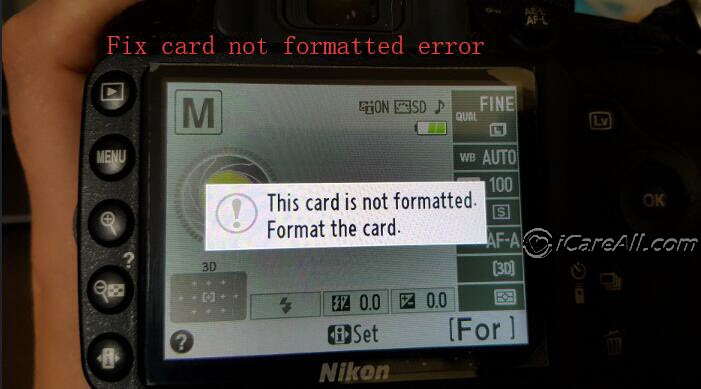 SD card shows this card is not formatted on camera
If you are just looking for free sd card format tool and do not need the data inside, be free to jump to Part 3: free memory card formatters
Table of Contents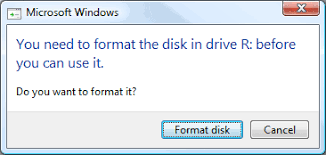 Raw corrupted memory card asked formatting in Windows 10/8/7 PC
How to repair corrupted memory card without formatting
ERROR-CHECKING is a Windows built-in tool for fixing storage media when its filesystem is damaged and reports unknown (RAW) filesystem on SDHC, MicroSD, CF card...
What is file system? It's the key that controls whether your memory card could be detected or read by devices according to the regulation of Windows and storage card manufacturers. There are several types of file system: FAT, FAT32, EXFAT, NTFS
When an old sd card is not formatted, its file system could not be found and became RAW (Not determined, unreadable). Luckily this problem could be easily fixed with Windows Error Checking under the sd card properties and the following steps will show you how to repair the memory card.
Step 1: Insert your sd card to Windows computer with a memory card reader. Open 'This PC', right click your memory card, go to option 'Properties' where the tool 'Error checking' is built.
Step 2: Click 'Properties' and navigate to Tools -> Check option, and select both Automatically fix file system errors and Scan bad sectors and recovery for memory card.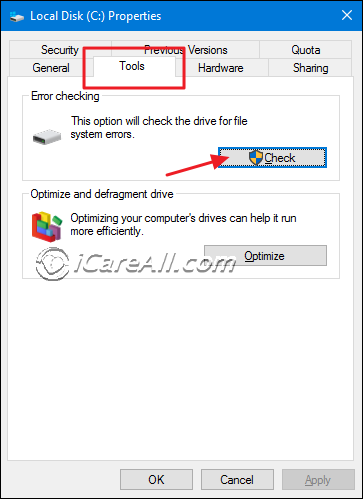 Repair sd card and check it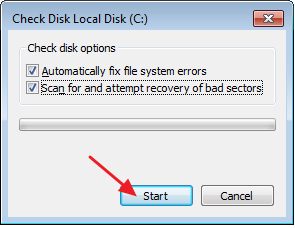 Confirm Automatically fix the file system errors for sd card
If the memory card is not formatted due to its damaged file system or bad blocks, it could be restored by the above method on a Windows computer. There is no such repair tools provided in your mobile phones or cameras, so you need to insert the memory card to computer for the recovery.
Video Tutorial: How to use Windows error checking for damaged sd card repairing
The error-checking tool is dedicated on file system repair that would always work when the memory card file system became corrupted due to various kinds of causes. If your sd card can be repaired by this tool, it would bring back files on the sd card too.
File System and Format Error: The error sd card is not formatted on camera or phone shows its file system is damaged that cannot be read by camera/mobile. File system is the key to get sd card recognized by devices, once it's damaged, cameras or phones would say it's not formatted.
What if SD card still not working? If the memory card has more damages that cannot be fixed by the above method, you may restore files from the corrupted sd card at first, and then use other memory card repair tools and format tools to fix this error.
How to recover files from corrupted memory card
Memory card recovery software can help rescue images videos from sd card that was used for camera, mobile or other devices once the sd card shows card not formatted error or when sd card does not work properly on the mobile or camera.
What's important: Please stop using the sd card for new data storage or make other changes to the sd card since the more you use it, the more difficult the sd card data recovery can be.
Note: you may directly use SD Card formatter if there are no important files on the memory card.
Download iCare Recovery Pro, the memory card recovery utility supports recovering photos videos from various kinds of damaged digital storage cards like sdhc sdxc microSD miniSD compact flash card that were used on android mobile phones, canon, nikon fujifilm cameras...
Step 1: Download, install and run iCare Pro Free edition on Windows computer and then select 'Deep Scan Recovery' to go to the next step.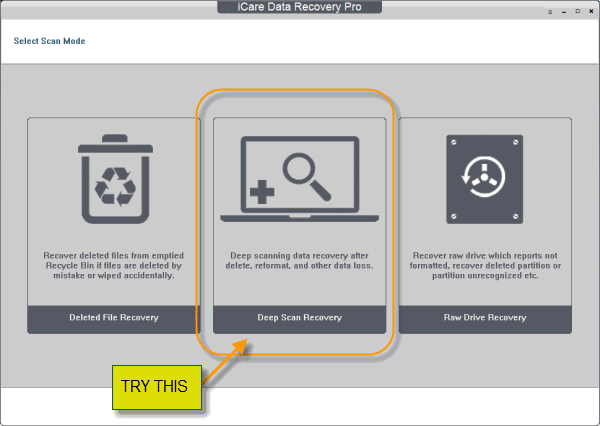 Start iCare for sd card recovery
Step 2: Select the damaged memory card and then click 'next' to start sd card scanning.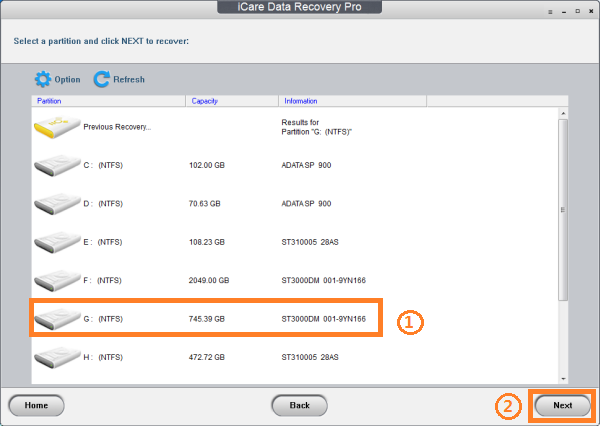 Select memory card
Step 3: Select found images and other data and then save them onto computer hard drive or usb stick.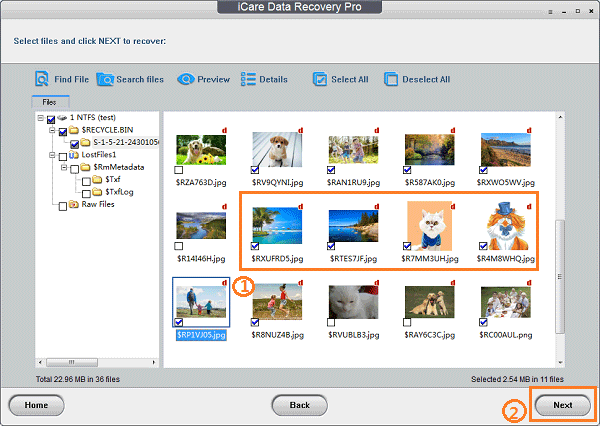 Recover data from memory card
The program offers Deep Scan that would scan every block on your sd card and help read files from damaged memory card and pull the data out from the memory card on a computer. And then you may do whatever on the sd card to get it repaired.
Repair damaged memory card using chkdsk cmd without formatting
Step 1: use 'Win+R' on your keyboard to start cmd, or you may find it under the start menu of your computer
Step 2: type 'chkdsk /f H' if H is the drive letter of your memory card and you need to replace H with the true drive letter that shows un in your computer.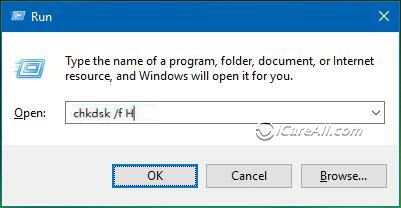 Repair damaged card using chkdsk: 'chkdsk /f H'
Or you may try the following different form: 'chkdsk H:/f'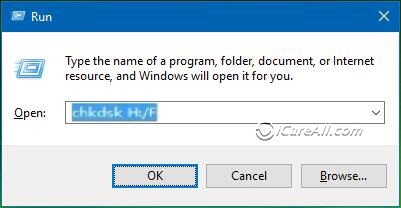 Repair damaged card using chkdsk: 'chkdsk H:/f'
Step 3: try to reconnect your tf/sd card to the mobile/computer again, and it should work now. If it still does not work, try step 4.
Step 4: Come back to the error-checking tool and then get the 'Automatically fix file system errors' and 'Scan for and attempt recovery of bad sectors' selected to see whether it work at this time.
Again, right click your memory card uner 'This PC', -> Property -> Tools -> Check -> Select both items and then click 'Start'.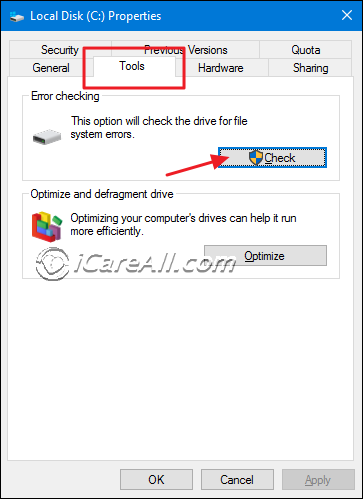 Repairsd card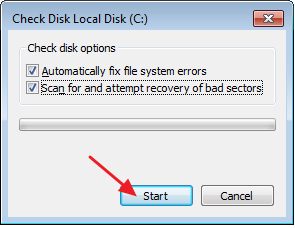 Repair sd card raw file system
Or you may use 'chkdsk d: /f /r /x' to repair the d drive as an example, you should replace d: with the memory card drive letter that shows on your computer.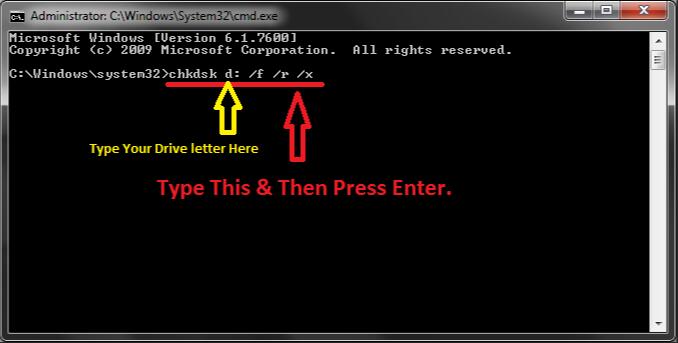 Repair damaged card using chkdsk
If these above methods still did not work for you, you may need to format your sd card by the following tools.
5 Free Ways to Force Format Memory Card in Windows 10/8/7
How do you format a memory card which cannot be formatted? There are the most efficient ways for formatting your memory card in Windows 10/8/7 by using computer disk management or free sd card format software to do the formatting and get your SD formatted on the condition that you confirm that you have get the important data backed up or restored before the formatting.
Tool 1: Format by right click option
This is the most simple way of formatting an SD/CF, or any kind of memory stick whenever you come up the idea to get it formatted.
Preparation: a card reader is required, or you may connect your device to computer with its phone/camera and then open 'This PC' by double clicking it or right click -> Open, and then you will see your memory card there.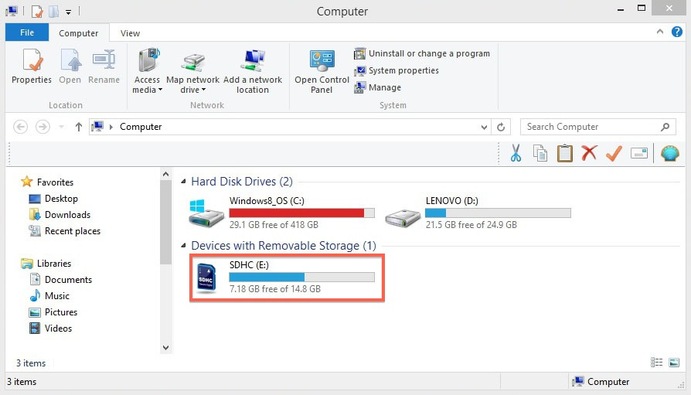 Open sd card
Step1: right click the memory card and you will see an option 'Format'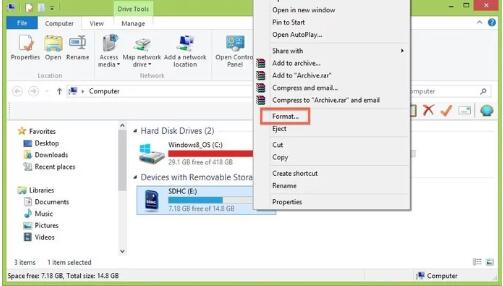 format memory card
Step2: Select the format option or leave it to default setting and the click 'OK' to start formatting.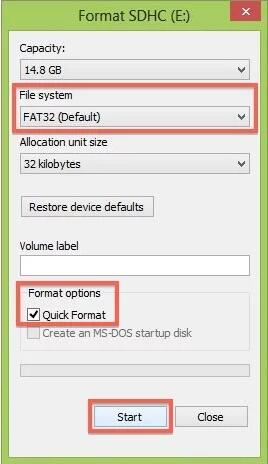 format memory card
Format failed on memory card? Format it to NTFS and see any luck.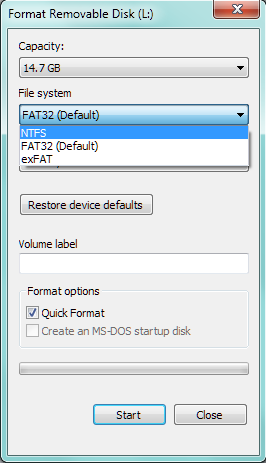 Format memory card ntfs
Or you may continue try other free sd card format tools.
Way 2: Format Memory Card with disk management in Windows 10/8.1/7/XP
You may open Windows disk management by the following route:
Right click 'This PC' ->'Manage'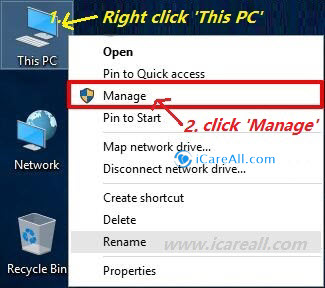 This PC - Manage
And navigate to 'Disk Management' and then you will see your device here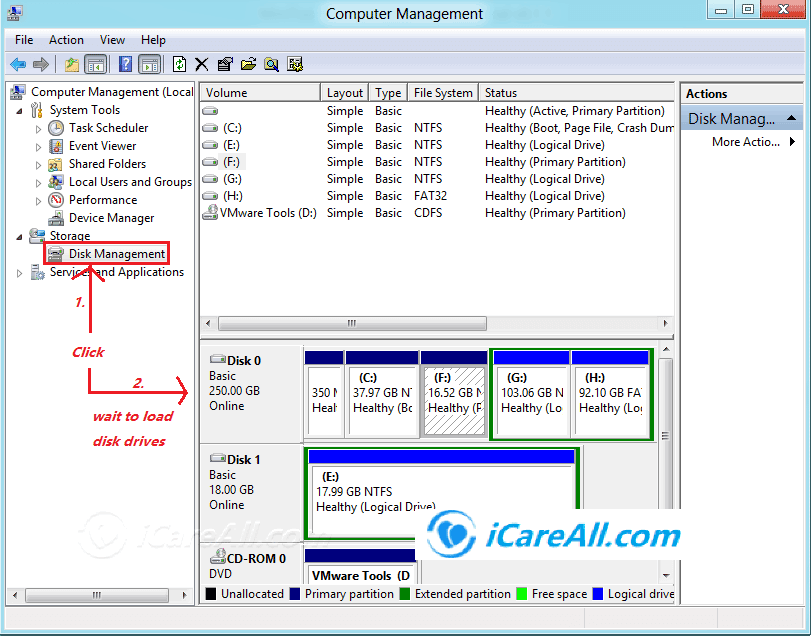 Open disk management
Right click your sd card even if it may reported as RAW if it's damage and then -> 'Format' option may come up at this step. Click 'Format' to go to the next step.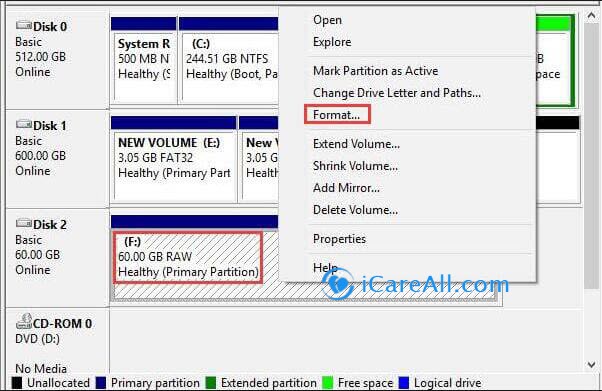 Format SD by Disk Management
You may leave it to default formatting setting or make some alternative changes. and then click 'OK' to format sd card.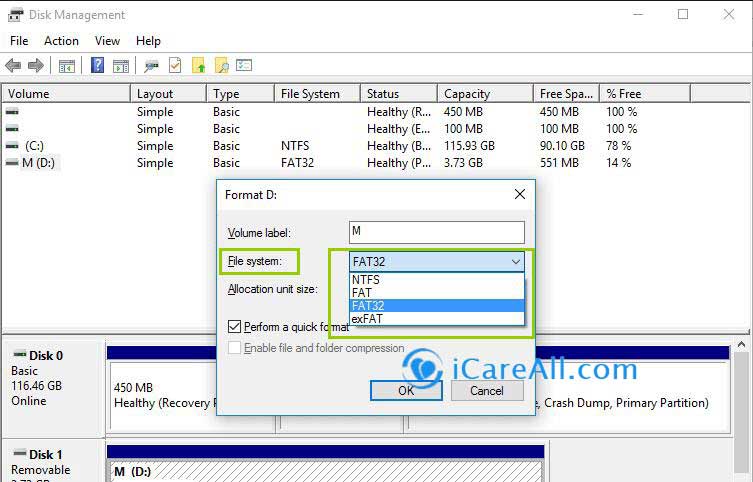 Format SD to ntfs/fat32/exfat
Way 3: Free SD Card format tool - IM-Magic Partition Resizer Free
There are a few useful format utilites that you may format memory card for free. IM-Magic Partition Resizer Free is a 100% free card formatter when your memory card cant be formatted.
Download this free format tool and then connect your memory card to a PC, open the program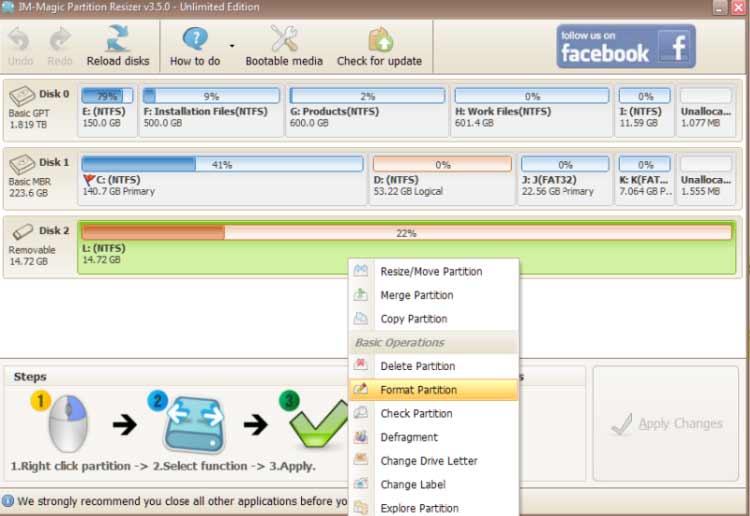 format by Resizer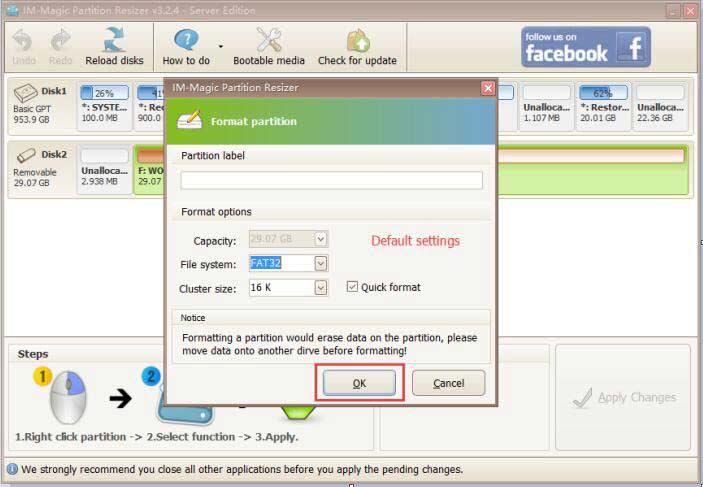 format SD ntfs/fat32 by resizer
Tool 4: format SD Card with usb disk storage format tool
USB Disk Storage Format Tool is another memory card format tool available as freeware for formatting your device.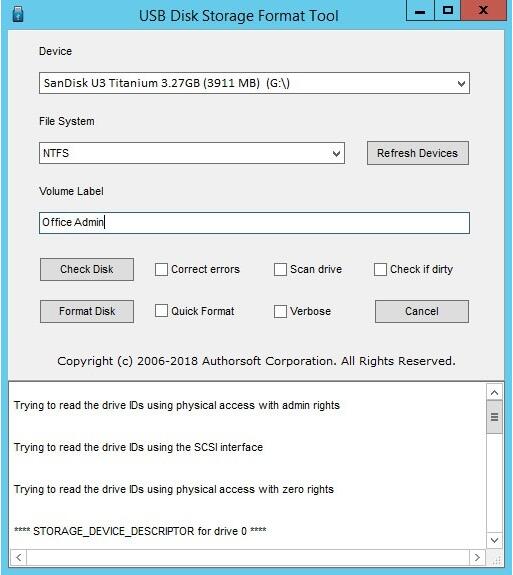 Format sd ntfs/fat32
Tool 5: Delete SD Card under Disk Management and Create New Volume (100% Work)
The sd card format problem can be fixed by deleting the sd card in computer disk management, and then create new volume for the sd card.
Note: It is useful when sd card not formatted error cannot be fixed by previous methods.
You can get sd card deleted in disk management by the following steps.
Step 1 - Insert sd card to pc via a card reader, open disk management
Step 2 - right click sd card under disk management
Step 3 - Delete sd card
Step 4 - Right click the sd card, and then go to 'Create New Volume' for the sd card, and then do the rest with its guide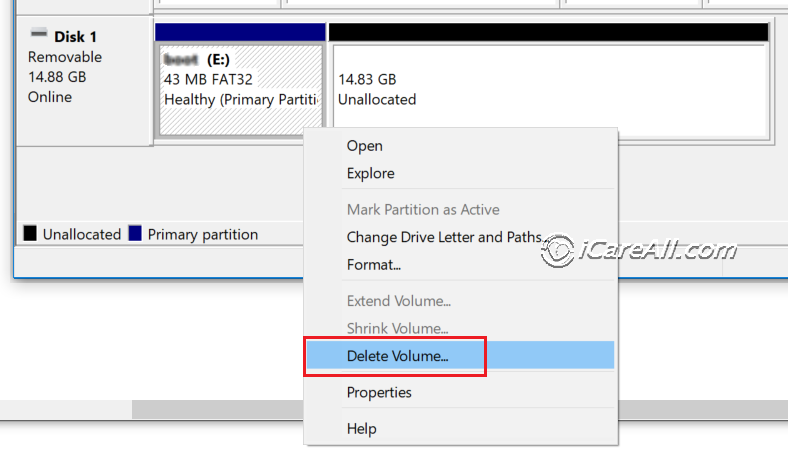 Delete sd card in disk management if it cannot be formatted
Windows was unable to complete the format memory card
After your data have been restored from the memory card, you may click 'Yes' to format when it pushed the popup message to you and asked you to format it before you can use it. The awkward happened that it cannot be formatted and another message came along 'Windows was unable to complete the format'.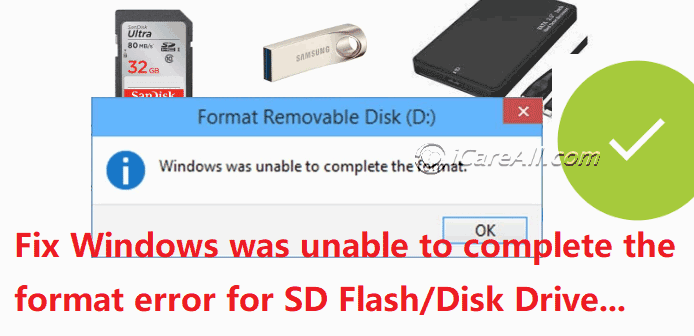 Cannot format memory card error
Or you may see another message: The format did not complete successfully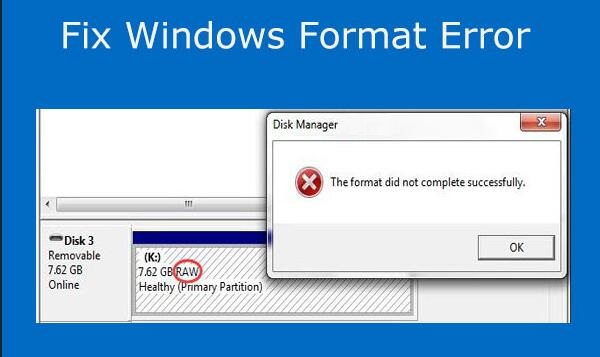 The format did not complete successfully
Why your android phone microSD card or cf card used on Nikon camera as an example could be not formatted in Windows 10/8.1/7 or even Windows XP? The formatting provided by your computer is provided by Windows, or some format software may also fail to get it formatted.
The Causes if possible
virus attack
bad blocks after overtime of use
damaged filesystem
memory card is write protected that it could not be either formatted, nor files to be deleted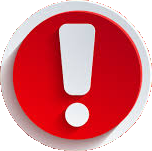 Warning!
Resucing the data on the memory card that has format error before making any changes like repair/fix the drive or you would lose the data permanently. We would recommend you save the inside data by iCare Pro Free and it allows you to rescue data free for 1GB.
How to fix Windows failed to format memory card
Failed to Format Memory Card Again?
Here are some more ways when your memory card cannot be formatted by Windows or some free format software.
Remove write protection from sd card
Scan virus on your damaged sd card
Repair bad blocks
Or the memory card is already dead and cannot be restored by any program especially when it has suffered physical damages.
How to remove write protection on memory card that cannot be formatted
If an SD card or cf card is write protected in camera/Android mobile, Samsung mobile, HTC, blackberry, or Xiaomi mobile for example, here are several ways that you can remove the write protection to remove possible errors like the unable to format problem in this case.
Way 1: There is a physical write protection lock on the memory card that you may turn it off. A memory card adapter is required if you are using microSD card or miniSD card to help switch the protection lock and then slide to lock off on your SD card adapter. Mostly memory card can be formatted regulaly in this case.
However it may happen that some certain inside folders or file on your memory card is set with write protection, so you need to pick out the specific folder and then remove its write protection.
Way 2: Remove memory card Write Protection by using cmd diskpart
Step 1. Type "diskpart.exe" on the left corner of your computer Start section and press Enter key.
Step 2. Type list disk.
Step 3. Type select disk 1 or Type "select disk n" to select your SD card. The letter "n" represents the drive letter of your memory card.
Step 4. Now type "attributes disk clear readonly" and press enter.
You should be able to format your micro SD card once the above read only property has been removed from your device.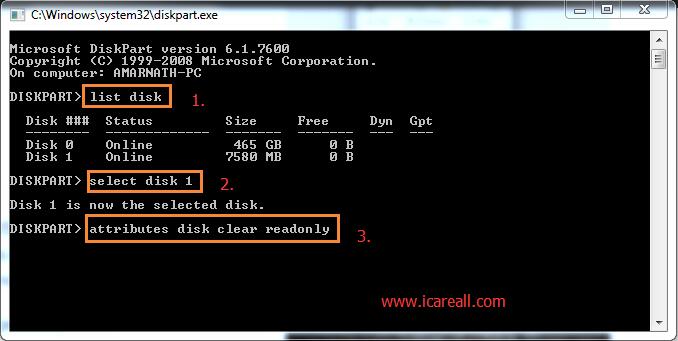 Remove read only attribute
Video - how to remove write protection for SD card that cant be formatted
Here are more ways of removing the write protection that you may try.
My android mobile memory card SD is damaged not formatted - the causes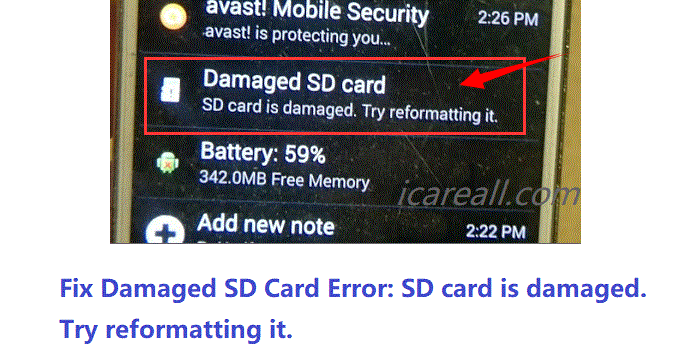 Damaged SD card needs reformatting in Android mobile phone
My micro sd card says 'SD card is damaged. Try reformatting it.' in my Samsung android mobile no matter on the phone nor on my computer Windows 10 laptop. And it cannot be accessed at all. How may I read the inside photos and video clips inside of the phone memory card? Is it possble to repair the damaged memory card without formatting since there are over a thousand photos back from last year and most of them are pictures of my three loved kids.
From desperate Momy Joanna
Why the memory card that used on mobile phone, camera or PC would become corrupted, turn to not reconigzed format and ask you to format it before you can use it? And sometimes it could not be formatted in computer Windows 10/8/7 /XP or even Mac OS.
The answer: logical damage or physical damage may occurred on the memory card and mostly the file system of your memory card was damaged(logically) due to bad sectors, unsafe removal, did not plug to PC correctly, spot on SD card or virus attack, it would be inaccessible.
The worst: physical damage like drop to ground, burned, physical resharped, out of age... All pysical damages on memory card could not be repaired by any software.
What to do when it asked formatting? Format it, or not?
The awkward is that even if you confirmed you agree to format it, sometimes it would fail to get it formatted leaving the message 'unable to format sd card' to you.
Before any further operation, we would recommend you try to reconnect your SD/TF/CF card to your phone/camera/PC, sometimes it would work if you try it again. Or you may try it with another card reader, another PC, another usb socket to identify if it's the problem of the memory card instead of your card adaptor/usb socket, or your OS problems.
Notes and Tips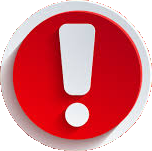 Tips!
Before any further formatting or repairing damaged memory card, here are some simple ways to find out whether it was the problem of your memory card, or you may get the problem solved in an easy way.
Way 1: use another memory card adaptor/reader to identify whether it was the error on the memory card or the card reader.
Way 2: use another computer to format the memory card, or connect your card to another PC usb socket, sometimes the corrupted memory card can be repaired.
Other FAQs
Q: What does it mean when a memory card is not formatted?
A: It means the sd card is damaged that cannot be recognized by your phone, camera, or computer.
If it was logically damaged, it can be fixed by reformatting the sd card on phone/camera/computer.
If it was physical damaged, you may use a swab to clean its chips or spins; or it cannot be fixed without the help of professional repair center; or you may directly buy a new memory card instead.
Q: Why does my camera say card not formatted?
A: When your camera cannot recognize your memory card if it's the file system incompatibility or the sd card is damaged, the camera will not be able to read the memory card.
The camera can only read small sd card less than 32GB?
The camera can read FAT or FAT32 while the sd card is exfat by factory
The sd card is no longer holding a regular file system fat32/exfat/fat that cannot be recognized by pc/camera/phone
To fix the error, you may format sd card on computer or camera/phone to get a recognized format, or use a small sd card instead to test whether the camera/phone can only read small sd card.
Q: This sd card needs to be formatted before you can use it
A: This means the sd card is not compatible with your device. You may get it fixed by the following methods.
1, Recover data from sd card that needs formatting
2, Format sd card on computer or phone/camera
3, Buy a new memory card if it cannot be fixed
Solution update on Sept 21, 2021
Other related SD card errors
The memory card cannot be used
SD card is blank or has unsupported filesystem
Card not formatted, format card with this camera
SD card is damaged, try reformatting it on android
Related Articles