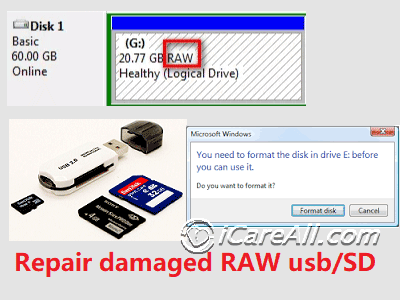 Raw SD repair
The type of file system is raw on SD card, what shall we do? You may wonder is it possible to convert the file system for memory card without formatting since most users may already have the awareness that reformatting the sd card may result in losing its old data inside of the memory card. So we would recommend you not to do any repairing or formatting if you have files of importance inside of the raw sd.
What shall we do to the RAW SD - Content list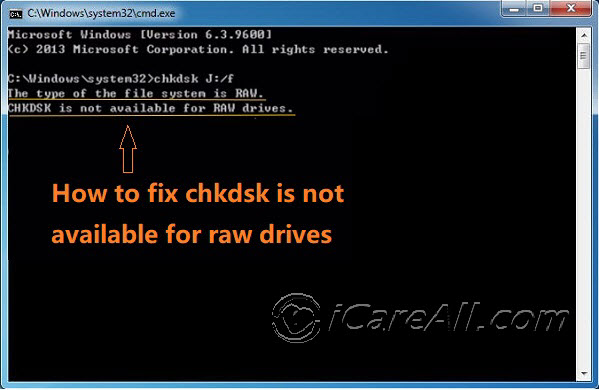 Chkdsk is not available for Raw SD
When your sd is in file system raw format, you would receive a butch series of symptoms such as 'chkdsk is not available for raw drives' on sd card if you try to determine what kind of error it is, or the disk in drive F is not formatted, you need to format it before you can use it, I/O device error...
Why sd memory card turned RAW file system
If the micro sd suddenly became raw format, it is mostly due to the file system that became damaged and unknown. This could happen by various causes such as bad sectors, unplug without safe removal, virus infection, power surge...
What is sd card file system?
File system in Wikipedia is explained as the regulation to control how data is structured and stored, usually where to begin and where to end.
What is raw file system on sd card? When the file system is damaged due to whatever causes, which means the whole inside data became unrecorded, unrecognized, in RAW format. And leteraturely speaking RAW means unexplored, unused, blank if the sd card became raw format.
What file system does memory card use?
Usually, when memory card like sdhc, sdxc, microsd and other memory cards are sold on the market, they are already formatted to a good file system.
There are fat32, exfat, ntfs file systems that are mostly used file system on sd card, togther with some other file system like ntfs5, ext2, ext3, ext4, xfs...
Other articles you may want to look into
How to recover files from raw sd card with freeware
Try iCare Free which is able to help recover files from your raw memory card for free with its 'Advanced File Recovery' option. It works for various kinds of raw memory cards including the raw compact flash card, sdxc, sdhc, xd card, micro sd, mini sd etc.
Step 1: Connect your , choose 'Advanced File Recovery'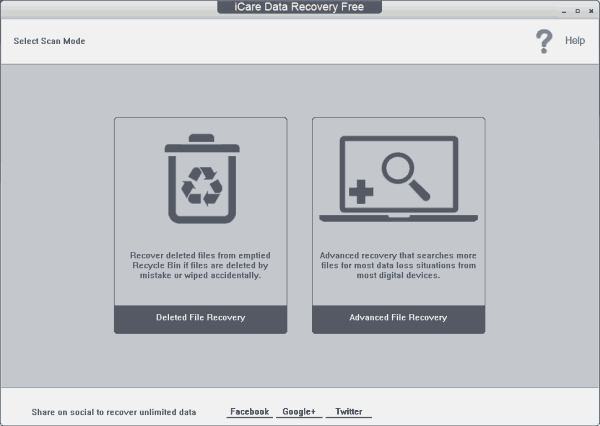 Start iCare for fixing raw drive
Step 2: Choose your raw usb to start scanning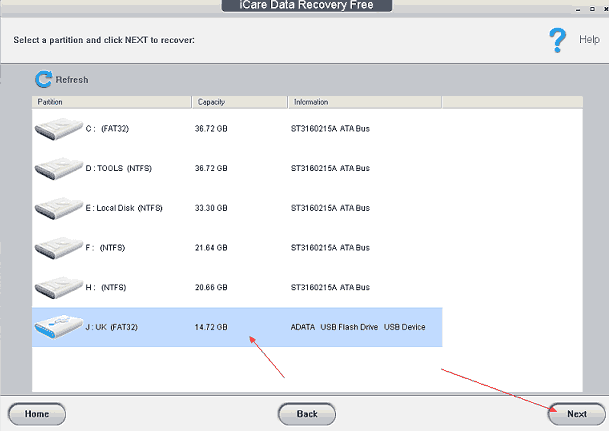 Select raw drive to recover
Step 3: Rescue data from inaccessible raw usb disk/flash by iCare Free.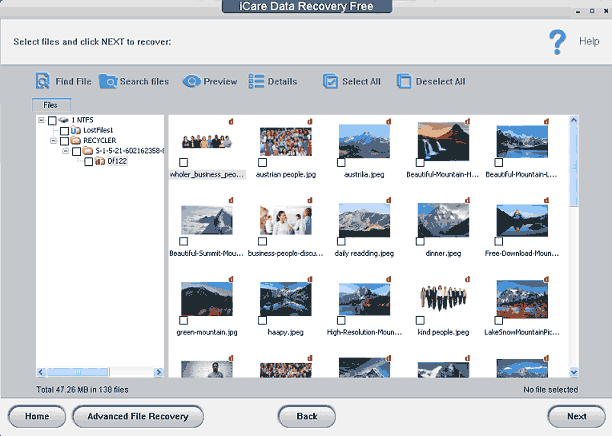 Recover data from raw drive.
How to fix RAW sd/microsd without formatting with repair tool
How to repair the RAW sd? RAW means the file system of the sd card is corrupted. So it would be useful to get the file system repaired and then the SD/MICROSD raw problem can be fixed.
Here are some file system repair tools free for you to repair the raw memory card.
SD RAW Repair Tool #1 - Error checking
Error checking is provided by Windows as a file system repairing tool that can be accessed if you right click your raw memory card, click Tools inside of Properties once the right click box showed up.
Step 1: Right click the raw media -> Properties
Step 2: Click 'Tools' and then 'Check'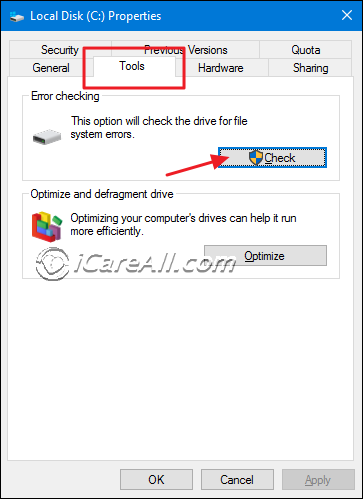 repair raw file system 1
Step 3: Check available options to repair the raw sd card right away.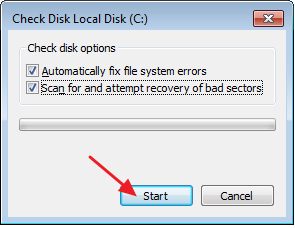 repair raw file system 2
Watch a video that shows how to repair raw file system by error-checking.
RAW SD/Microsd repair tool #2 - Partition Resizer Free
This is a free tool that provides a file system repairing too.
Step#1: Fixing the raw memory card by downloading and installing the freeware Partition Resizer, connect your raw sd to PC and then open Resizer, right click your raw sd, go to option the 'Check Partition'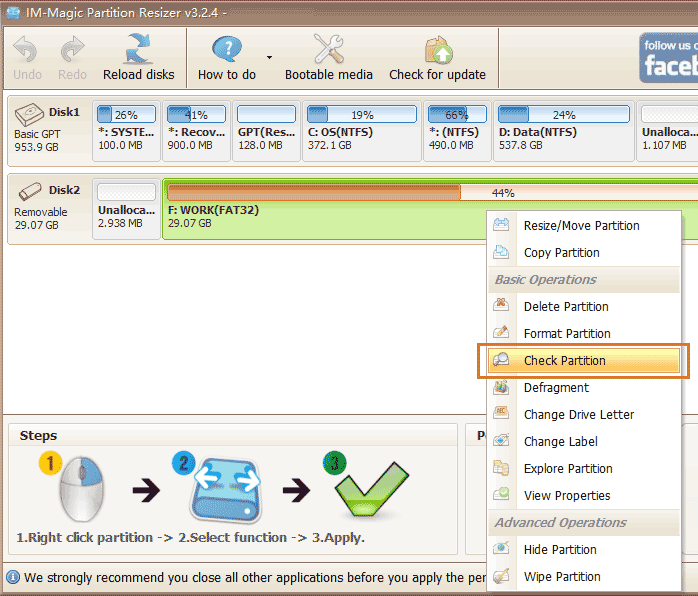 repair raw file system by resizer
Step#2: Here comes the main functions for checking partitions which can repair bad damaged file system on sd memory card to get the raw error fixed by checking all options and then click OK to start repairing.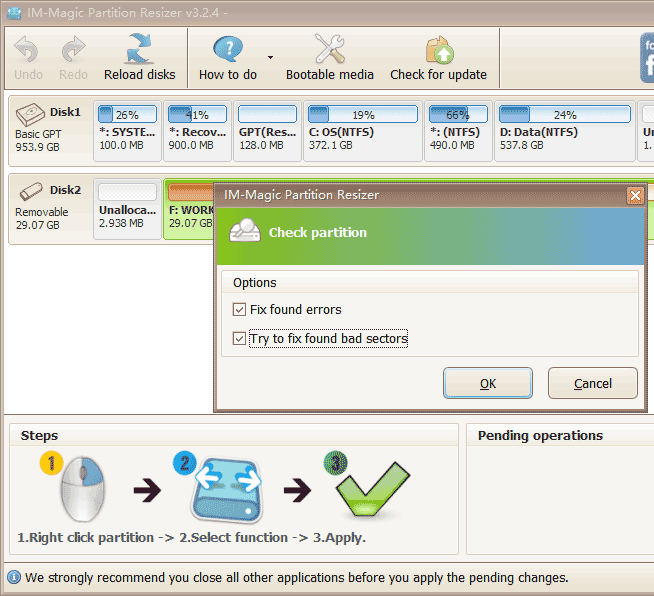 repair raw file system by resizer
This program is free of charge and it can be used to format the raw sd to fat32/ntfs for free too.
How to format/convert raw micro sd using diskpart cmd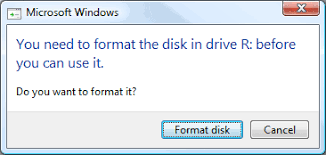 Damaged raw sd asked formatting
How to change file system on SD card? Changing sd card file system may be done via formatting. This guide applies to various kinds of memory card including the most frequently used ones minisd, sdhc, sdxc, compact flash card, etc.
Firstly, you may need to know how to open the CMD with the following video.
Once the cmd is open, try the following.
CMD Method #1
1, type 'diskpart' after you open RUN box
2, type 'list disk' to get your raw sd listed here
3, type 'select disk *' to get your raw sd selected.
4, type 'clean'
5, type 'create partition primary'
6, type 'format fs=ntfs quick' (or you may use 'format fs=fat32 quick' instead)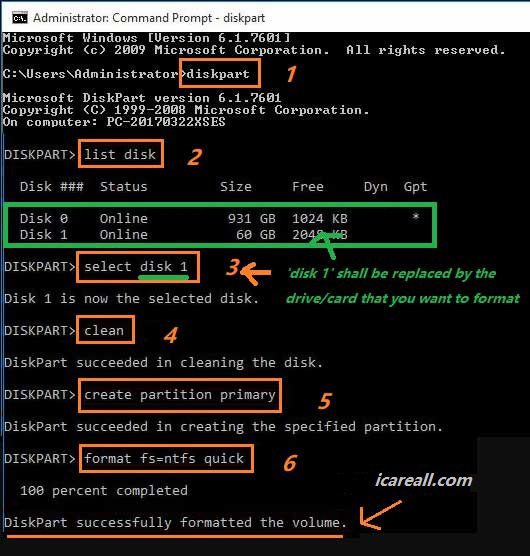 format raw file system ntfs with cmd diskpart
CMD Method #2
The same way to open cmd or simply open cmd by using Win+R two keys on your keyboard and then another type of words to operate the diskpart cmd.
1, type 'diskpart' after you open RUN box
2, type 'list volume' (before doing this, please make sure your raw sd has been connected to PC via a card reader.)
3, type 'select volume *' (* is the volume letter of your sd)
4, type 'format fs=fat32 quick' (you may also just use 'format fs=fat32' and fat32 can also be replaced by exfat too)
5, type 'exit'
Other content you may want to know
Related Articles