Guide to fix the error
My SD Card is Damaged Try Reformatting It - the error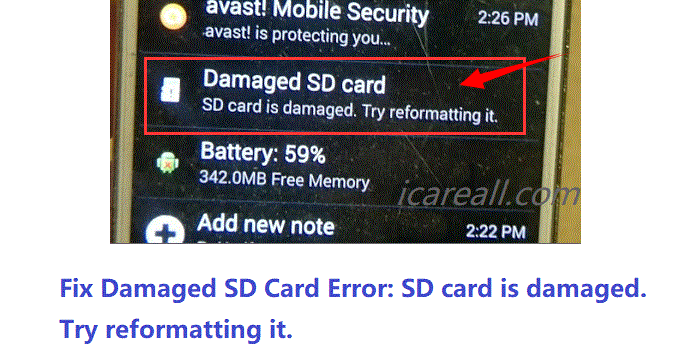 Damaged SD card said SD card is damaged try reformatting in Android mobile phone
Background
As cellphone has become an important digital device in our daily life, most users may feel upset once their phone is damaged with error such as: Damaged SD Card - 'sd card is damaged try reformatting it'. Data stored on Android phone would be inaccessible and it would be a totally bad moment if you haven't done a backup for the photos videos messages notes that you do not want to lose inside of your phone. How to fix the error and make your phone tf /sd card work again?
You've arrived at the right place as this article provides full guide for fixing the damaged SD card. Keep on reading to find the right solution for fixing your damaged memory card.
What happened to your mobile phone memory card when you see this damaged sd card error on your mobile when you want to use it but it showed up an warning on the screen?
What is reformatting? Reformatting means you need to format the SD card again! As we know that when we receive our memory card that we bought from online shops or digital media shops, the memory card has already been formatted for new data storage by the factory. We directly use it for taking photos or saving data once we get it placed on the mobile phone. The first formatting was not done by users.
Reformatting would erase all files on the Micro SD card, so you may stop using the memory card and get it out of the phone for recovery, the best chance of recovery.
Damaged SD Card could be brought by virus attack, improper use of phone, falling off on to the ground(physical damages), bad blocks, or just becoming dead due to running out of life term.
The chance of recovery: 90% of such error could be fixed and your sd card may work on your phone again, so don't worry and just following this guide for repairing the damaged sd card. And here comes the guide.
Part 1: How to recover data from the damaged SD card
If there are many photos videos or other important files inside of the memory card that is reporting the reformatting error, and you do not want to lose the data, here is a guide that you may recover data from the damaged SD card for free.
Crucial moment: how to recover data from damaged sd card (5 free sd card recovery software)
The question: You may query how do I recover damaged sd card with Android app. The truth: the above guide does show a guide that you may use android app to recover data from the damaged sd card.

Warning: sd card data shall be stored onto another usb flash or computer hard drive for the following repairing steps may result in data loss if you haven't stored the data on another digital media.
Then here is a guide that you may format the memory card once the data inside have been recovered.
Part 2: How to Format damaged SD card with Android phone or computer
Here are the steps to format sd card on Android mobile.
Settings -> Storage -> SD card -> Format SD Card -> Confirm formatting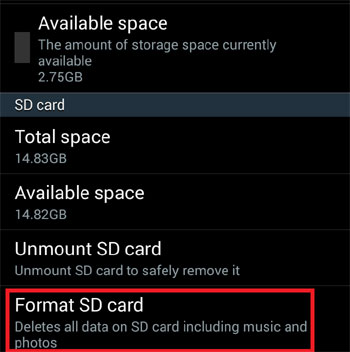 Format sd card on Android

Recommend: How to format sd card on Android (Tutorial with video)

Recommend: Format sd card on computer with 4 free ways
Note: Again! The recovered data must be stored anto another digital device instead of the mobile phone memory card if you want to format the SD card.

Note: if you do not want to format memory card and do not want to lose data either, there is a solution on this page that shows: how to repair damaged sd card without formatting
12 Ways to repair damaged memory card
There are more than 12 free ways to fix damaged sd card, be free to visit:

Must read: 12 solutions for fixing sd card error free
Solution update on Jan 19, 2020
Related Articles
External resource