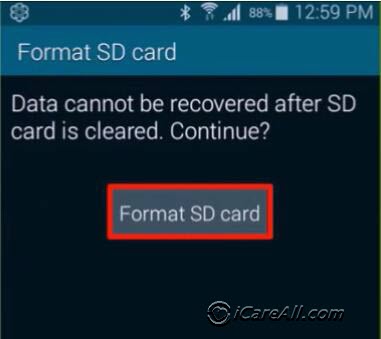 Formatting SD card will erase all files
Do you want to erase all data? You need to keep this in mind that all formatting or erasing SD would result in losing the files inside, photos, videos, notes, messages... If the files are important and you do not want to lose, it's better that you transfer the memory card data to backup on somewhere else like a computer drive, or a backup disk that you could perform the backup by using a computer.
If your sd card is already warning you that you need to format it and the memory card data in no longer accessible, data on the SD card shall be recovered before any formatting.
Recommend: 5 free memory card recovery software to recover files from damaged sd card is recommended on this page.
Video - how to format sd card on Android
Formatting SD Card on Android (New SD or Old SD)
Here are two parts included with formatting new memory card for mobile, and also formatting old memory card (good working sd card together with some memory card that is corrupted and needs a reformatting) on Android Phone.
Part 1: Format a NEW SD card on Android for internal memory or external storage
Formatting a new sd card is quite easy in the following guide that also includes steps to show how to format sd card for Android internal memory storage.
Step 1: Connect your sd card to the mobile phone socket or insert your memory card to the phone that most Android phones provide such phone gagegets. (Power off the mobile if its the first time you get it connected to your phone, and then power on after its ready in the mobile.)
Sometimes you need a help with a needle that can turn the sd card socket out for sd card storage. Here is a photo that collects several ways of inserting a memory card SD/MicroSD to phone.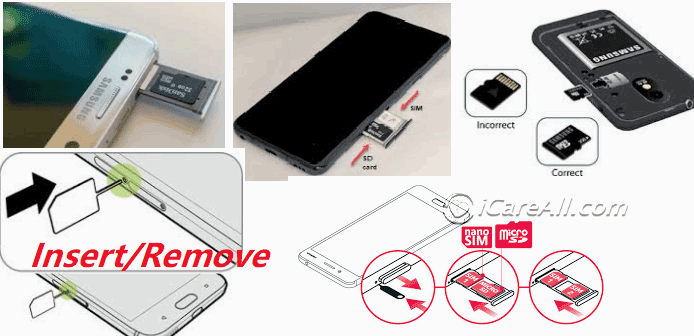 Insert memory card to mobile
Step 2: "SET UP" option is available once the sd card is detected on your mobile phone if its the first time you connect it to your Android phone. And there is option for you to use it as portable storage or use it as internal storage.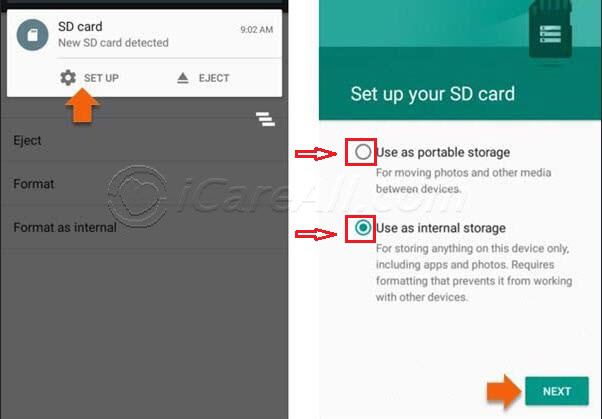 Android sd card detected
Part 2: Format SD Card the old one on Android
If there is an SD card that is already in use on your mobile, and now you want to reformat it no matter for what reason, here are the steps that you may follow.
Notes: Formatting the memory card on android is kind of removing the inside files, please do have a backup at first. You may upload your SD data onto a cloud service such as Google Drive or you may connect your phone sd card to a computer and copy all the images, videos to another device such as the computer hard drive, a usb flash drive, or what ever storage device you may have that could store the data.
When the backup or data moving has been finished, it's the time for format the SD card on your phone safely without any worry.
Step 1: Open your cellphone -> Scroll down to its "Settings" and navigate to "Storage" and then open it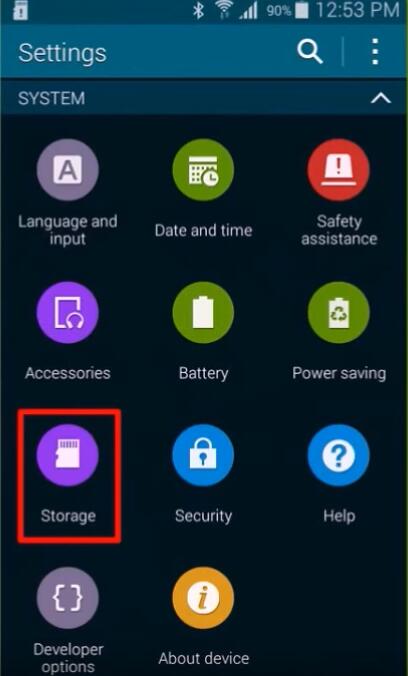 Settings on mobile
Step 2: And there is an item showing 'Format SD Card' for you to start the formatting. Click it.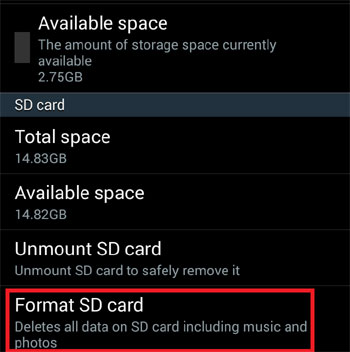 Formatting sd card option under Storage
Step 3: And then here comes the warning if you click 'Format SD card'. Click to format it.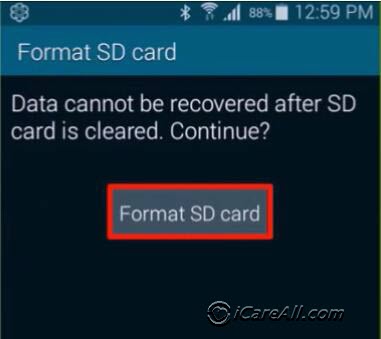 Formatting SD card will erase all files
If the above procesure is complicated, here is another short cut that some phones provide such formatting option.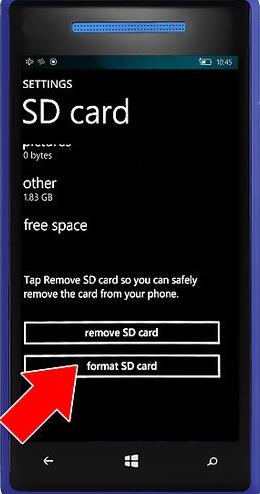 Format SD card on Android phone
Format SD Card Android APK Download
Some users are looking for android apk that could be used to format sd card on android and here are a list of android apk that you may download for formatting an SD card. Or you may search on your Google Play to find one for your own need.
Formatters on Google Play https://play.google.com/store/search?q=formatter&c=apps&price=1&hl=en_US
SD Card Formatter APK on https://www.apkmonk.com/app/com.Sd.Card.Formatter/
SD Card Formatter on https://apkpure.com/sd-card-formatter/com.infinityapps007.sdcardformatter
Format SD Card on https://format-sd-card.fileplanet.com/apk
Disadvantages: the formatter android apk is not excellent on the market than the Windows OS. Be careful when using these tools.
Note: we recommend you use sd card formatter on computer to format sd card instead of downloading the Android apk since there are more options on Windows PC.
Format sd card fat32/ntfs/exfat on Windows 10/8/7
You may wonder how do I format sd card fat32 or format sd card ntfs or even exfat. This is some skill that can be performed with the help of a computer in Windows 10/8/7/XP...
The simple way for explaining the formatting is as followed,
Connect sd to PC with a card reader -> Open 'This PC' -> Right click SD once you see it -> Format, and there will be a window showing up,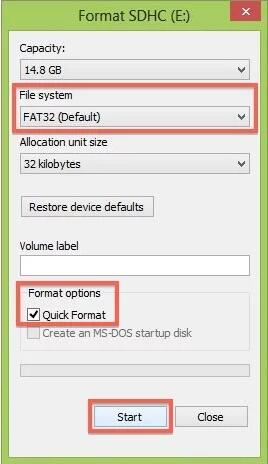 Format SD card fat32
You may choose available file system options: fat32, ntfs, exfat or what ever is available on your PC.
Recommend: see more 4 free ways to format sd card fat32/ntfs on computer or even when it is damaged with raw filesystem.
Can't Format SD on Android Phone
What to do when sd card was reported that it cannot be formatted on matter on mobile or PC? The formatting may result in failure if there was something wrong with the memory card and would report such message that it cannot be formatted.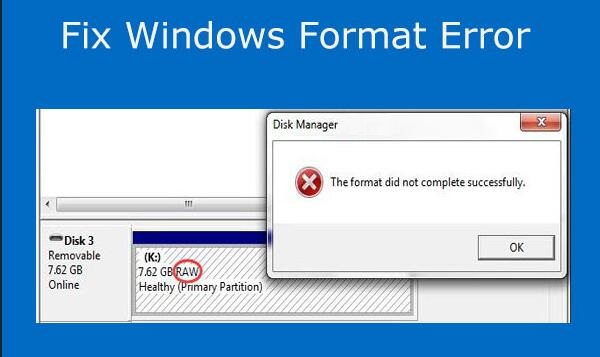 Unable to format SD card
Recommend: read this solution that introduces a full guide for repairing the sd card when it cannot be formatted.
Also read: how to fix unable to format sd card in mobile
How to erase SD card permanently with Android phone or computer
Formatting sd card does not mean your sd card data can no longer be recovered since the sd card data recovery software are developed by many software developement companies that provides such tools for recovering data after formatting sd card.
Recommend: how to erase memory card and clear data permanently
FAQs
Question 1: Is there any android sd card format apk when sd card cant be formatted?
Answer: Yes, there are many provided in Google Play. However we would recommend you format memory card on Windows pc for better user experiences. If the android built-in format function failed to format your memory card, here is a full guide for repairing the sd card when it cannot be formatted.
Question 2: How may I format sd card android samsung galaxy?
The guide on this page is a thoughtful tutorial for formatting your memory card no matter what brands of mobile phone you use, and of course samsung galaxy cellphone is included in this guide.
Solution update on Dec 6, 2019
Related Articles