Guide to fix the error
Why is sd card blank or has unsupported file system in Samsung Phone/Tablet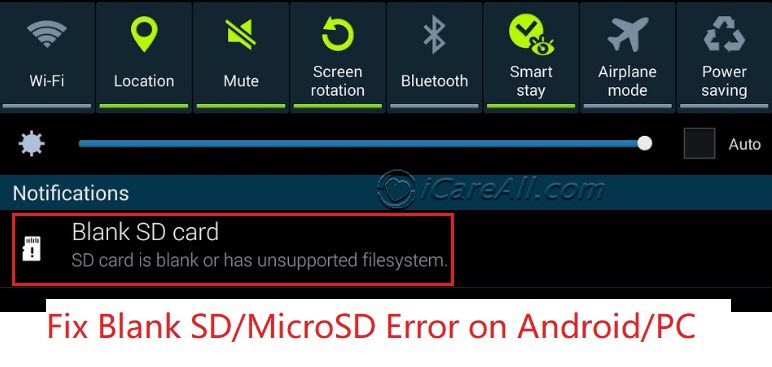 Blank SD Card Error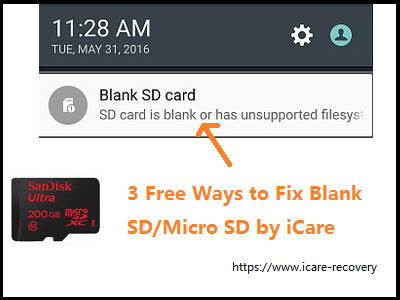 Blank SD Card Error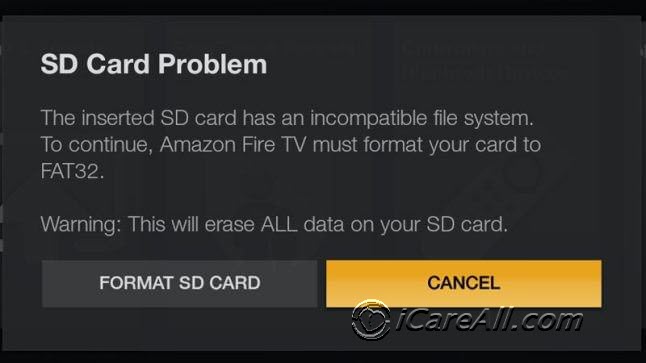 SD card incompatible file system on TV
Background
"Today I bought a 16GB microSD card today to use in my tablet and unfortunately my tablet will not mount it. I get an error of: "SD card is blank or has unsupported filesystem." It then asks to format the card, which I say yes to and it says checking the card, then preparing the card and then it goes back to the original error and the cycle continues. Basically I am unable to get the tablet to see the card. The same card in my laptop works perfectly fine. Any suggestions?" --- from Ennola on Androidcentral.com
"Micro sd card turned unsupported in my Samsung galaxy S9 android mobile all of sudden. Is it possble to fix the blank sd card without formatting?" I have recently did a factor resetting to my samsung galaxy and then the sd card became blank with unsupported file system error, could it be the possible cause for my memory card had gone blank? --- An email from a user.
Why sd card is blank or has sd card problem with unrecognized file format? What causes an android mobile to give an error "SD card is blank, or has unsupported file system" or come up with incompatible filesystem in Android phone Samsung Galaxy, or tablet for example Samsung Galaxy S8 S7 S9 S10 OR NOTE that showed blank sd in mobile or computer Windows 10/8/7?
Virus attack - the file system was damaged by the virus or malware
Unplug sd without powering off phone and without safe unmount mode - logical damage
Memory card was removed from computer without safe removal - logical damage too
The file system of the sd card does not match with the phone/tablet with some fat32 while another one exfat/ntfs that conflicts with each other - this could simply be solved by formatting it to a matching pair.
Physical damage with spots, which could be cleaned and removed
Physical damage that can no longer be repaired
Other chip damages
Bad blocks
This is a quite common error message that come up in the Android mobile phone that many Samsung galaxy, Hindi, tablet, Blackberry users may encounter if anyone uses memory card like sdhc, micro sd card, mini sd card in their phones and sometimes it is not even the problem of the memory card but the error comes from the mobile. How?
It truely happened that some Samsung Galaxy phone users looked for solution for the blank memory card that were used on their mobile phone or even some tablet users came up with similar problems. Many users may wonder is it possible to download 'blank sd card fix android app' that they do hope to get it fixed without pc.
Blank/unsupported memory card is an error that accounts on several parts with corrupted phone, corrupted memory card, unsupported memory card size, or unsupported file system involved. And this page would show you several ways to get this blank or unsupported sd card error solved.
Video - 3 ways to fix blank sd card free
7 efficient ways of repairing bank/unsupported sd card problem
Some of the repairing is based on Windows PC that you need to connect your sd card to computer with a card reader.
Way 1 - Repair damaged file system by Check Tool
Step 1: Right click the memory card that shows on your computer and right click -> Properties
Step 2: Click 'Tools' and then 'Check'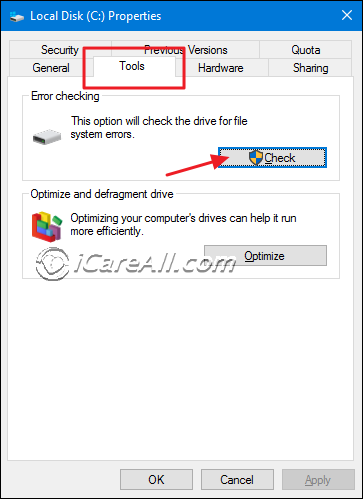 repair blank sd card file system
Step 3: Check both options to repair the blank memory card. (This message box has option to scan and recover bad sectors on the blank card.)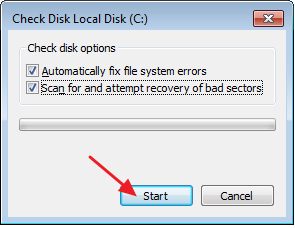 repair not supported file system 2
More information about how to repair unsupported filesystem: how to repair sd card raw file system
This file system repairing is especially useful when sd card reported unsupported/incompatible file system. The whole error may be removed just with such simple clicks. Just try it for free, no cost at all.
Way 2 - format SD card (fat32/exfat)
This solution two is to match the correct file system format for your phone or tablet. And this part would be useful when your sd card is damaged in your phone, or when it is the first time your memory card is inserted into the phone/tablet and it reported incompatible filesystem.
Format your sd fat32
If your phone/tablet/camera is pretty old/supports small expandable memory card, be free to format it fat32, and see whether it would work. Here we recommend you format it in Windows PC since it has the option for you to select the file system fat32, ntfs, exfat to get it formatted.
For example: if an old phone only supports expandable microSD up to 2GB -> A 64GB microSD card won't be compatible with the old phone/camera since mostly memory card over 32GB uses exfat file system, for example the SDXC has exfat file system set by manufacturers.
Solution -> use a 2GB memory card or less for the old phone/camera, and format the memory card to be fat32.
Open your cellphone -> Scroll down to its "Settings" and navigate to "Storage" and then open it -> Format SD card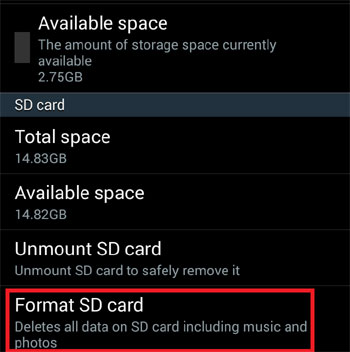 Formatting sd card option under Storage
Or you may visit this page to know more skills about formatting sd card in android phone:
how to format sd card in Android phone
Note: Android phone does not provide the function for you to format the memory card from exfat/ntfs to fat32 that you need to get it converted on a computer, Windows 10, for example.
Here is how you may format it to be fat32 under Windows computer.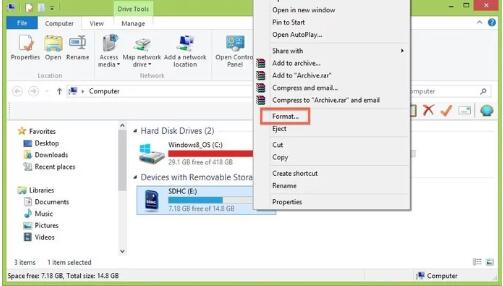 format memory card in Windows
And do choose FAT32 option in the next window to proceed the format. (please ignore that we did use a 16gb memory card in the photo, just remember your sd card is less than the max storage capacity for your device.)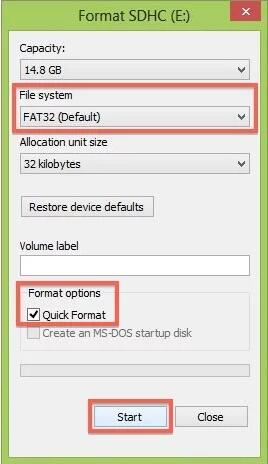 format memory card fat32 in Windows
Format your sd exfat
When does your phone/camera need an exfat file system? It is most of high chance that your phone/device is within recent years and supports large storage capacities such as 32GB, 64GB, 128GB of size, or even bigger.
If the memory card you want to use for the phone/camera is samll, it probably uses fat32 file system, then the comflict may get sd card problem. When your phone/camera /tablet needs an exfat file system, you need to just supply them with exfat memory card this time. The latest digital media always applies exfat file systems.
How to format it to be exfat? -> Format it under Windows computer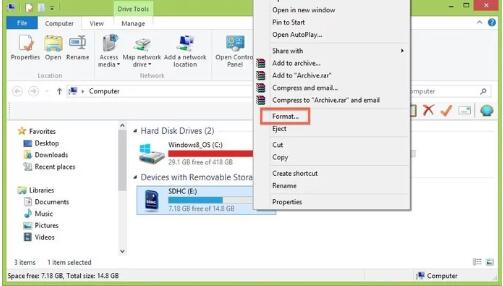 format memory card in Windows
Again, here comes the format when you right click the memory card in computer. And select EXFAT this time to get it formatted.
Format Blank sd card by Partition Resizer Free, a free program for you if the above formatting was not successful by computer right click format.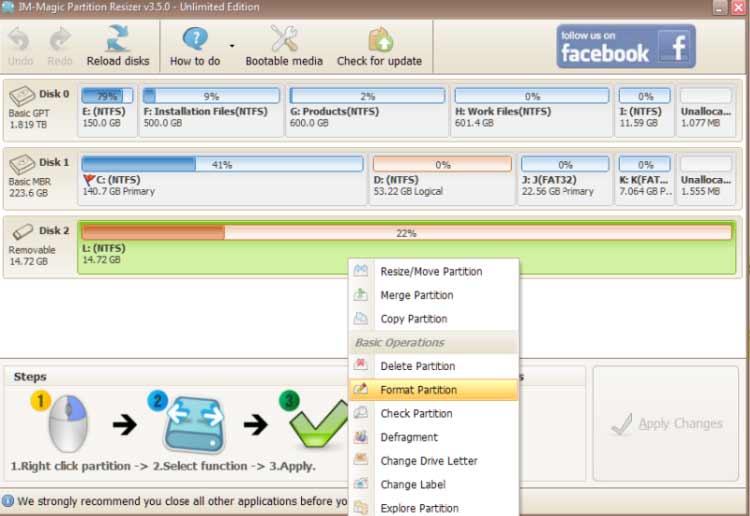 format blank memory card fat32 with freeware Partition Resizer

70% of blank/unsupported memory sd card problem could be fixed by the above formatting.
Way 3: factory reset - delete all user data and wipe cache partition - wipe cache; another efficient way that you could fix the blank memory card in Android mobile without computer
Note: this is data erasing, we strongly recommend you backup data from the sd card before all this resettings.
Keep the phone off and press volume +, home key and power on key together for 5 seconds, then a lot of English options will enter recovery mode
Select wipe data/factory reset and then yes -- delete all user data (This is phone format)
Return to the main interface, select wipe cache partition, and then select Yes -- wipe cache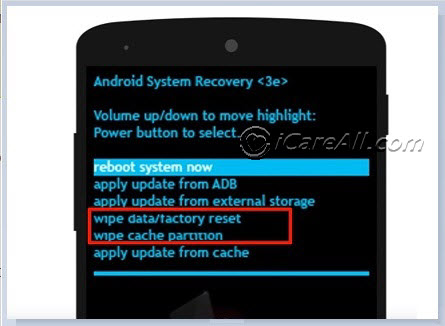 Factory reset and wipe cache partition to fix sd card
Way 4: Clean the possible damages or spots on the memory card if the above logical repair did not work for you.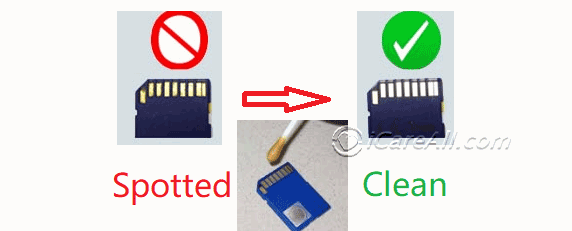 Clean memory card chip
Way 5: Use the memory card on another phone to test or connect it to PC and see which is corrupted, the phone, or the memory card. You may connect your sd to computer and right click it -> property and see what file system it has.
No damaged mobile phone and neither a damaged memory card may also involved in this dilemma, for example an old phone that was made for holding a memory card up to 2GB will show sd card is blank when the SD card is a 64GB capacity.
How to find it out? When you remove your sd card which is reported blank in phone A, insert it on another phone that the blank error is no longer there with everything inside of the memory card, while another memory card like 1GB that also works in phone A, then it proves both the memory card and the mobile phone are working just with different capacity that conflicts.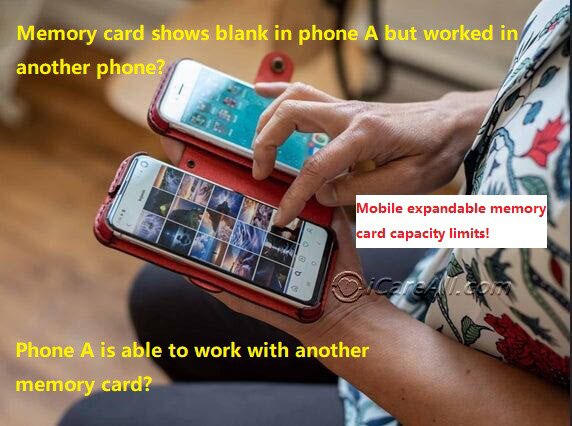 mobile phone storage capacity errorIs it possible to fix the blank sd card error in this case? The mobile phone external memory card capacity storage size is limited due to the CPU and ROM on the phone that could not be replaced easily by you. The only option for you is another phone or another memory card.
Way 6: SD card has been locked on PC/Phone
It often happened if someone or you have locked the memory card before on your phone or computer and then if you reinsert it on another phone, it would not be read. So you need to remove its write protection by
Method 1 - turn off write protection switch
Method 2 - remove write protection by
cmd -> diskpart -> list disk -> select * (the drive letter that your blank memory card marked here) -> attributes disk clear readonly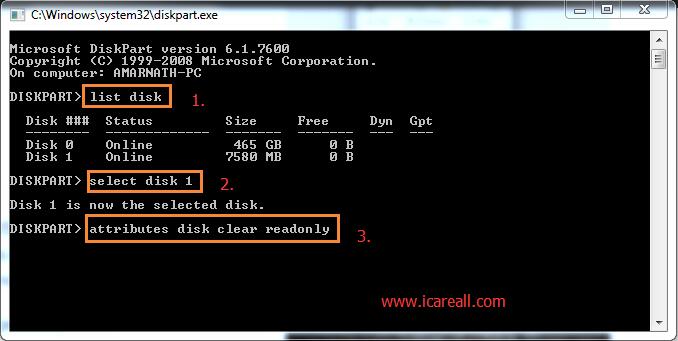 Remove read only
Way 7: Show hidden files of sd card
When the data were set to be hidden in your SD card, microSD, it would show blank if the file system was all right. And now it is time to show the hidden files now. Get it connected to PC via a card reader and then follow the other steps here below.
Step 1 - Open the micro SD card which includes missing file > Click on "Tools" menu > Choose "Folder options".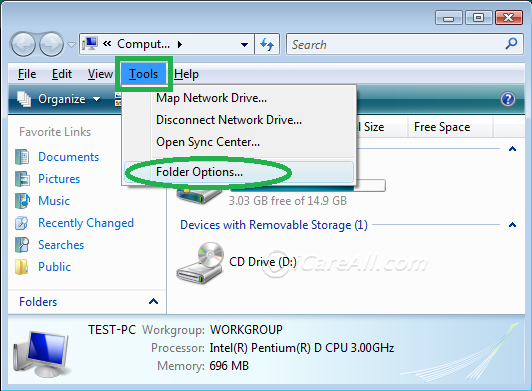 Show hidden files - open folder options
Step 2 - Navigate to "View" > Check "Show hidden files, folders, and drives" (uncheck "Hide protected operating system files (Recommended)" if necessary) > Click on "OK" button to apply.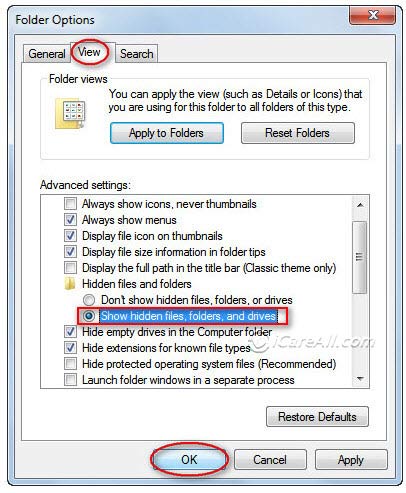 Show hidden files
If the above methods all failed, then your memory card may have suffered physical damage that cannot be repaired. Or you may check out more repair methods in the following article

More methods? Recommended article: How to fix corrupted sd card with more than 10 skills
Frequent Asked Questions
Fix blank sd card using cmd diskpart
Before any cmd operation for fixing the blank memory card, you need to make sure you have a copy of data on the blank memory card, or you must recover the data from the blank sd before any command prompt.
Here are the steps that you may use command prompt to fix the blank memory card by diskpart. Type cmd by pressing buttons "Win+R", the Win is the start menu, or the windows icon on your keyboard.
Step 1 - type diskpart in the blank
Step 2- type "list disk"
Step 3- type "select disk *" (you need to replace * with the volume number that your blank sd card shows up in the list)
Step 4- type "clean" to clean the memory card for new settings (You need to recover data from the blank sd card if it has important files before this step.)
Step 5- type "create partition primary"
Step 6- type "format fs=ntfs quick" or you may use "format fs=fat32 quick" as an option, or even "format fs=exfat quick" instead. This is the file system that you want your memory card for your phone and usually fat32 and exfat are for memory card.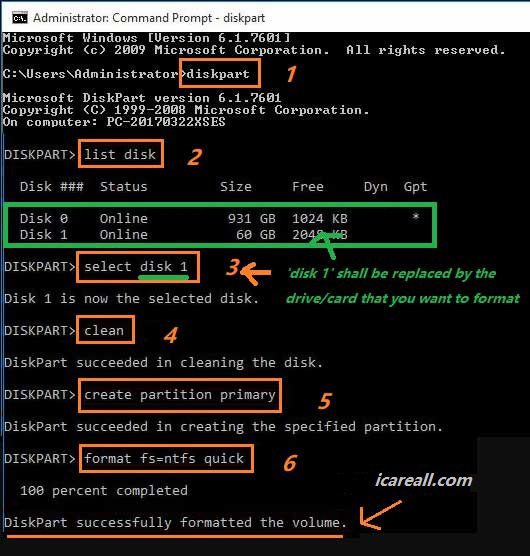 Fix blank sd card with cmd
This is exactly the steps that is for repairing "unsupported file system", and "incompatible file system", a part of the error that comes along with the blank sd card.
How to recover blank sd card without formatting
You may query whether it is possible to fix blank sd card without reformat, and there this part is telling you the skills that you need to get it repaired without a reformatting with the help of some free tools.
Tool 1 - Error checking by Windows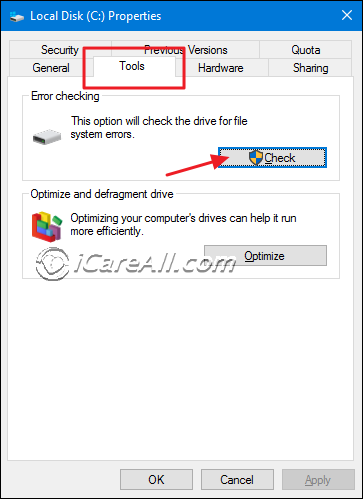 repair blank sd card file system
This is a function we have previously mentioned in the article that you may look back in the front part.
Connect sd to PC with a card reader -> right click memory card ->and go to "Properties" -> Tools
And there you may start repairing the blank sd card file system error without formatting.
Tool 2 - SD Card Repair Tool (Partition Resizer Free, another useful freeware)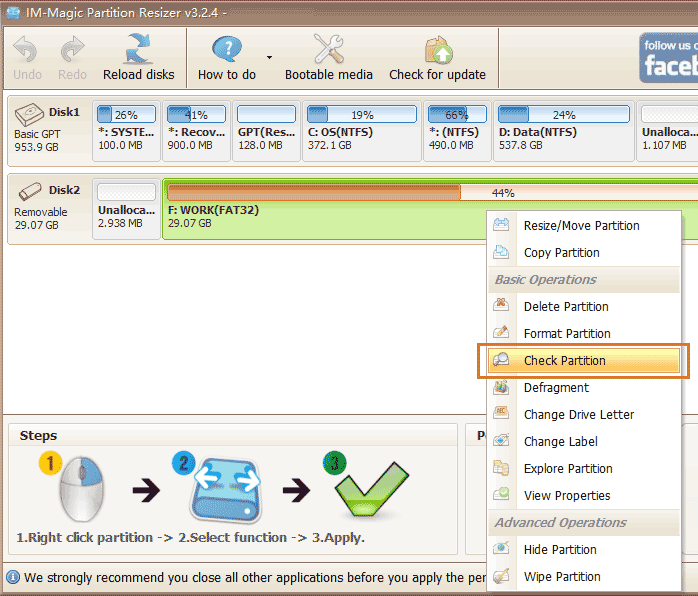 repair bad file system by resizer
The 'Check Partition' inside of freeware IM-Magic Partition Resizer is offered for free as the memory card repairing utility that you may try to get your sd card repaired even it is with bad blocks.
Tool 3 - CHKDSK to repair blank sd card
Run CHKDSK to fix the error. Follow these steps:
Step 1: connect the blank SD card to the PC through the card reader and make sure the machine detects it.
Step 2: run CMD as administrator and enter CHKDSK n: / F (n is the drive letter of a blank SD card that needs to be replaced by the real drive letter of your blank SD) to fix the error.
CHKDSK N: / F
Step 3: reconnect the SD card to the mobile phone and check whether the card works normally.
Part 1: How to backup data from blank SD card
Sometimes formatting may be the only option left to try for repairing the blank sd card and it would be desperate if there are important images and videos inside of the sd card. Oops, the only option left is to backup files from blank sd card. And here is a program that we need to mention - iCare Recovery Pro Free, which is able to help backup data from the blank memory card.
1. Run iCare Data Recovery pro on your computer, enter "Deep Scan Recovery" mode.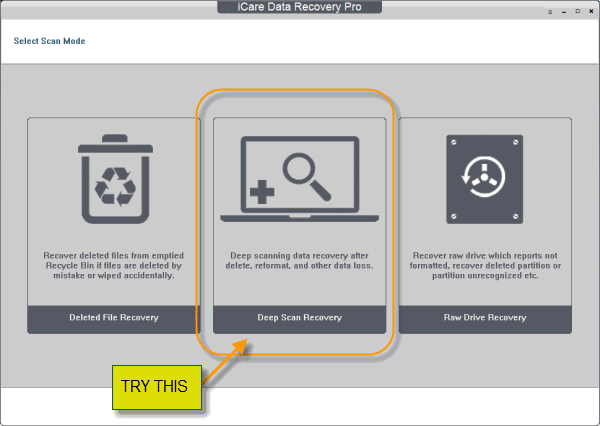 Recover data from blank sd card
2. Select your blank memory card for recovery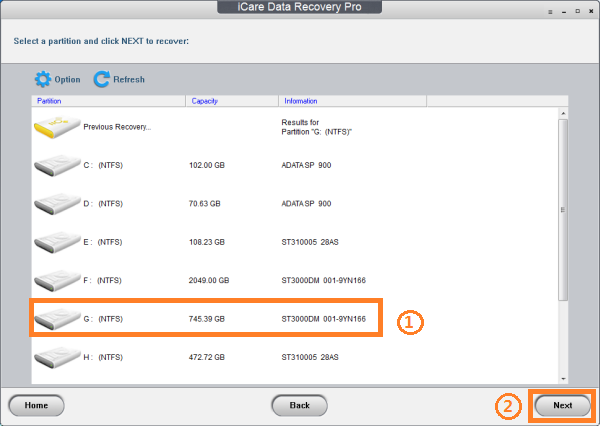 Recover data from blank sd card
3. After scanning, select images from the blank sd card to recover.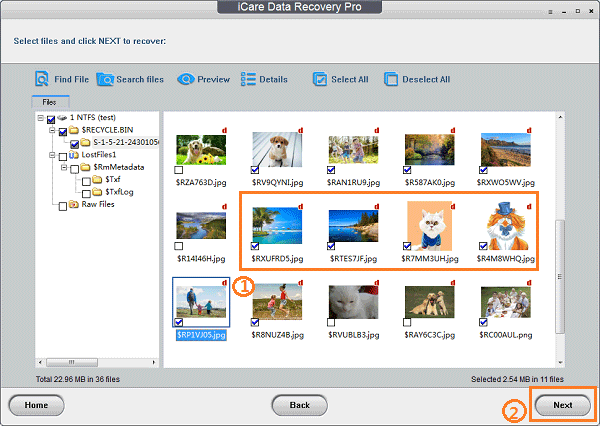 Recover data from blank sd card
Take advantage of free tools for free recovery: how to recover data from sd card (5 free sd card recovery software)
Contact Samsung Memory Card SUPPORT
If the problem is more difficult than you can handle, just get the manufacturer for help and give details and what you have tried to them.
Here is a short cut of Samsung help (memory card & phones)
Solution update on Jan 19, 2020
Related Articles
External resource