Table of Contents
USB RAW format
Is it possible to repair raw file system on usb disk drive when it was changed from ntfs to raw format?
I have a Samsung external usb that has recently changed to file system raw. The chkdsk seemed did not work either since it reported chkdsk was not available for raw drives... Is there free repair tool that could do the magic to the raw usb, I mean some tool to do the raw repair?
By Jeffery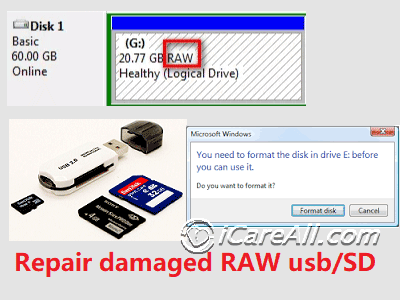 Raw usb drive format error
The format of usb file system is supposed to be something among ntfs, ntfs5, fat32, exfat, hfs... and ntfs would be the most often used file system for usb disk or flash drives.
Why usb is raw and asking for a formatting?
This could be the file system error, master file table error, bad sectors and other unknown causes that made the usb device to be raw format. When Windows could not know what the format of your pendrive, it would pop up a warning: hey, you need to format the disk before you can use it. That's what we see on the above photo.
If your raw usb drive has important files, you may use a free program to recover them before the repairing.
Recover data from raw usb disk/flash with freeware
Try iCare Recovery Free that can recover files from raw usb media for free. It supports more than 600+ types of files with unlimited recovery. Be free to download the freeware.
Step 1: Connect your raw usb to PC and then run iCare, choose 'Advanced File Recovery'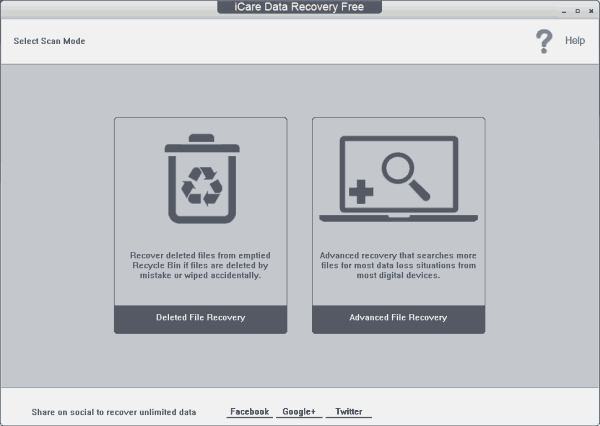 Start iCare for fixing raw drive
Step 2: Choose your raw usb to start scanning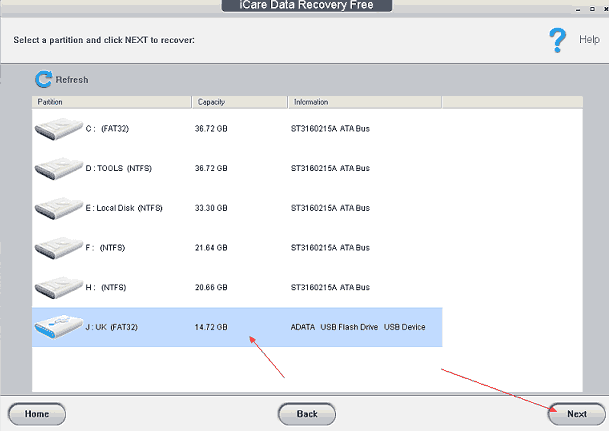 Select raw drive to recover
Step 3: Rescue data from inaccessible raw usb disk/flash by iCare Free.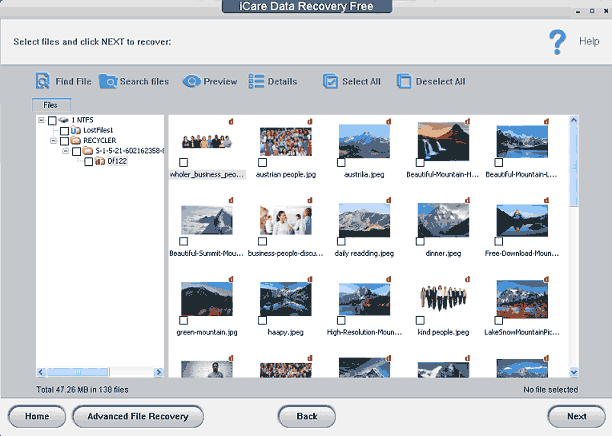 Recover data from raw drive.
USB file system RAW format/repair tool download
You will see a format warning coming up to you when your usb turned raw format, and also when you see message 'CHKDSK is not available for raw drives' while using chkdsk, that means the file system or some part inside of the usb drive was damaged. It mostly happened when the file system was corrupted due to virus infection, software failure, unsafe removal, bad sectors or other logical damages happened to your usb media.
Here are two tools that we would recommend for repairing the raw usb external.
Free Repair Tool #1 - Error checking
Error checking is provided by Windows for checking possible file system errors and repairing them along with this processing. You may use error-checking to repair usb raw file system for free.
Step 1: Right click the raw usb and check 'Property' or 'Properties' on the pop up box
Step 2: Click 'Tools' and then 'Check' to open the door for the repairing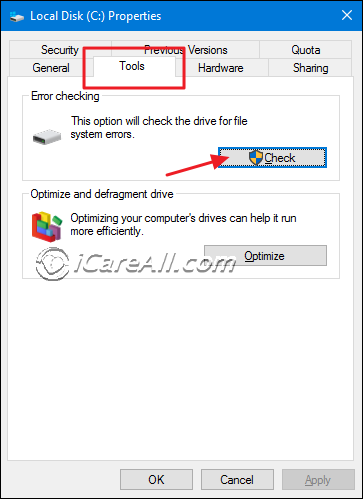 repair file system error checking
Step 3: Do get all options selected and then click 'Start' button to start reparing damaged usb raw file system error.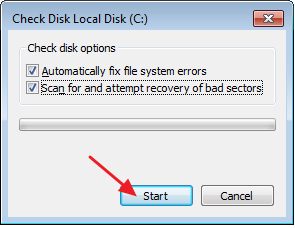 repair file system error checking 2
Once the repairing processing finished, then right click your usb and get it formatted to fat32/ntfs. If your usb still cannot be formatted, try the following repair tool for free.
USB Raw repair tool #2 - IM-Magic Partition Resizer Free
This freeware also has a check partition for repairing bad parts on a usb drive.
Step#1: Download and install the usb raw repair tool onto your PC, Windows 10/8/7 recommended for its installation. Right click your raw usb and then select 'Check Partition'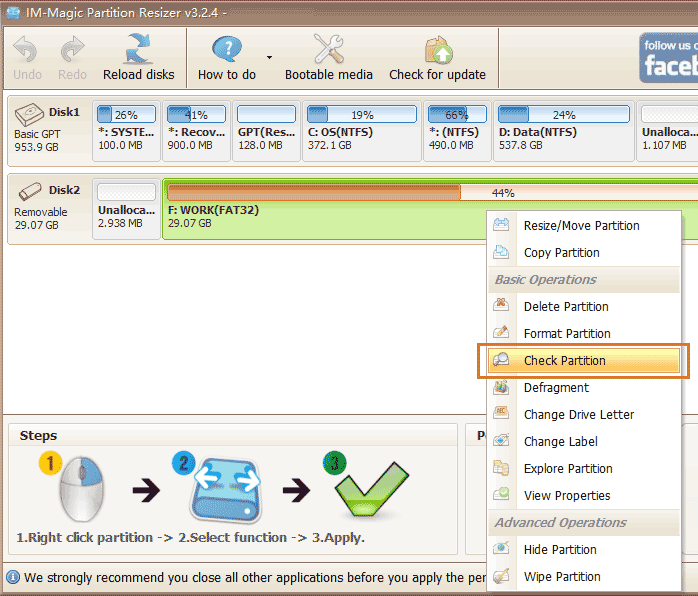 repair bad file system by resizer
Step#2: Repair bad errors and bad sectors on usb drive.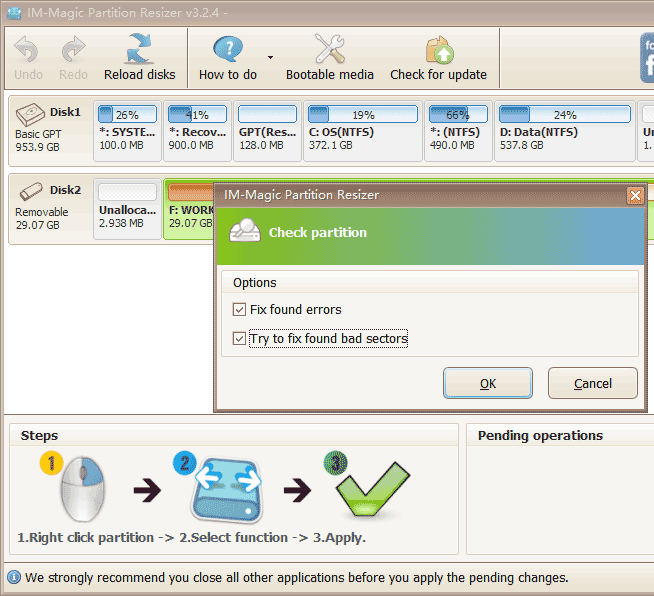 repair bad file system by resizer
How to format raw usb using cmd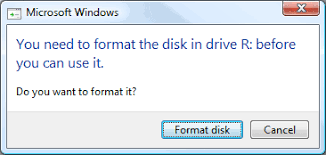 Damaged raw usb asked formatting
If you want to use command prompt to repair the damaged usb drive, here are the steps.
Preparation: you need to know where to run the cmd, or you may simply press Windows icon + R to open the run Window and then it would show you the command prompt.
1, type 'diskpart'
2, type 'list disk'
3, type 'select disk *' to get your raw drive selected.
4, type 'clean'
5, type 'create partition primary'
6, type 'format fs=ntfs quick' or just 'format fs=fat32 quick' depending on what kind of file system you need for your usb disk/flash. If you do not know ntfs or fat32, you may simply use 'format fs=ntfs quick'. It would work for you.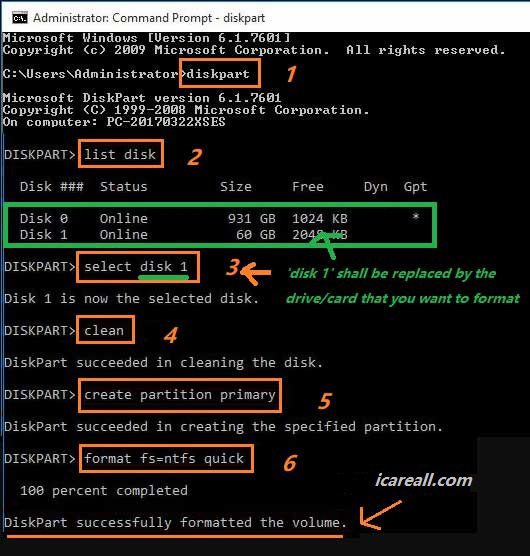 format raw file system ntfs with cmd diskpart
Video - Repair usb when Windows cannot format it
Other content you may want to know
Related Articles